1Key Laboratory for Colloid and Interface Chemistry, Ministry of Education, School of Chemistry and Chemical Engineering, Shandong University, Jinan 250100, Shandong, China.
2Department of Mechanical Engineering, The Hong Kong Polytechnic University, Hung Hom, Kowloon, Hong Kong SAR, China.
3School of Physics, Shandong University, Jinan 250100, Shandong, China
4Institute of Chemical and Engineering Sciences, A*STAR, 1 Pesek Road, Jurong Island 627833, Singapore.
#These authors contributed equally.
*Correspondence to: Prof./Dr. Jintao Zhang, Key Laboratory for Colloid and Interface Chemistry, Ministry of Education, School of Chemistry and Chemical Engineering, Shandong University, Jinan 250100, No. 27, Shanda South Road, China. E-mail: jtzhang@sdu.edu.cn ; Dr. Jun Wang, Key Laboratory for Colloid and Interface Chemistry, Ministry of Education, School of Chemistry and Chemical Engineering, Shandong University, Jinan 250100, No. 27, Shanda South Road, China. E-mail: jw707@sdu.edu.cn ; Dr. Lili Zhang, Institute of Chemical and Engineering Sciences, A*STAR, 1 Pesek Road, Jurong Island 627833, Singapore. E-mail: zhang_lili@ices.a-star.edu.sg
Abstract
To address the fossil energy crisis and environmental problems, the urgent demand for clean energy has promoted the rapid development of advanced rechargeable metal-air batteries based on the redox reaction couples of gases, such as the oxygen reduction, oxygen evolution, carbon dioxide reduction and carbon dioxide evolution reactions. High-efficiency electrocatalysts are highly desirable to enhance the conversion efficiency of these reactions for enhancing battery performance. Significant advances in single-atom catalysts (SACs) on carbon matrices have been witnessed in recent years as attractive and unique systems to improve the electrocatalytic activities for high-performance rechargeable Zn- and Li-air batteries. This review summarizes the latest achievements in the applications of carbon-supported SACs in metal-air batteries, with a particular focus on the rational design of SACs and their fundamental electrocatalytic mechanism at the atomic level. The future development and perspectives of SACs in the field of metal-air batteries are also discussed.
Keywords
Single-atom catalysts, carbon supports, electrodes, electrocatalysis, Zn- and Li-air batteries
INTRODUCTION
The global shift away from fossil- and carbon-based energy has promoted the development of green and renewable energy conversion and storage systems, such as rechargeable batteries based on a metal with oxygen (metal-O2) or carbon dioxide (metal-CO2)[1-8]. Among them[9-12], benefiting from the low density of Li metal and the stable chemical properties of Zn, metal-air batteries based on Li or Zn as the anode have a very high energy density and outstanding cycling stability and are therefore considered the most likely next-generation energy storage and conversion devices for electric vehicles[13,14]. In addition, in contrast to the current research on the reduction of CO2 into CO, formic acid and other products, which requires electrolysis to consume energy, metal-CO2 batteries, such as aprotic Li-CO2 and aqueous Zn-CO2 batteries, use CO2 as a negative electrode in combination to achieve slow CO2 fixation/utilization[15-18], while generating electricity instead of consuming electricity. However, these batteries face many challenges in actual applications, such as high overcharge potentials, by-products from decomposition of the electrolyte and poor cycle stability[19-22]. Researchers have found that one of the main reasons for these problems is the slow dynamics of the oxygen reduction reaction (ORR), oxygen evolution reaction (OER), carbon dioxide reduction reaction (CO2RR) and carbon dioxide evolution reaction (CO2ER). Thus, research has mainly been focused on catalyst development in order to solve the above-mentioned issue of slow reaction kinetics[23-25].
Precious metals have been found to be the best performing catalysts[26-28]. However, due to their scarcity and high price, there is a constant search for low-cost and sustainable alternatives, such as transition metal oxides[29-32], transition metal chalcogenides[33-35], metal nitrides[36,37] and carbon-based materials[38-40]. In recent years, metal-based nanoparticles (NPs) have received tremendous interest due to their unique mechanical and electrical properties and the synergy of their surface properties, which contribute to their overall behavior. Compared to their bulk counterparts, NPs possess much larger surface areas and quantum size effects. As the size of an NP decreases, the ratio of its exposed surface atoms increases dramatically. The unique surface atomic structure and electronic structure of NPs offer significant potential in catalytic applications[41-43]. More importantly, as the number of atoms of NPs decreases further, nanoclusters are formed, which exhibit enhanced catalytic performance[44-46]. According to the above phenomenon and explanation, the atomic utilization can be maximized with very high catalytic efficiency if the size of the metal is properly controlled down to the atomic level.
Single-atom catalysts (SACs) are commonly composed of a single metal atom and coordinated heteroatoms on the surfaces of carbon materials, metal oxides and others. In addition to carbon materials, the anchoring of metal atoms on non-carbon supports is also efficient in improving the utilization of metal for enhancing electrocatalysis. For example, metal-supported SACs tend to be formed when the radius and bond formation energy of the supported atoms are close to those of the host metal atoms and their electronic structure can be precisely tuned by properly loading single atoms for an efficient HER, OER and ORR. Metal oxides are effective catalysts for the ORR, and it is possible to obtain high-efficiency bifunctional catalysts after loading SACs on them, which can be used as Li-O2 and Zn-air battery cathodes. In addition, chalcogenides feature higher electrical conductivity and are effective for CO2 reduction, making them potential matrix materials for loading single atoms in Li- and Zn-CO2 batteries. Comparatively, carbon materials, such as graphene, carbon nanotubes (CNTs), carbon nanofibers (CNFs), carbon paper and carbon cloth with high surface areas and superior electrical conductivity are normally employed as SAC supports to boost the ORR, OER, CO2RR and CO2ER by providing abundant channels for mass transfer and thus remarkably improving the electrochemical activities. Moreover, the matrix materials also play a critical role in storing discharge products in the batteries, such as Li2O2 and Li2CO3. For promising practical applications, the energy stored per unit mass or area should be sufficiently high. In this case, carbon matrices exhibit a unique advantage. Compared with metals, oxides, chalcogenides and other compound materials, their mass-specific density is much lower and the preparation processes of porous carbon materials tend to be mature, which can be used to effectively control the pore structures for improving electrocatalytic performance.
In 2011, Qiao et al.[47] first deposited a single Pt atom on iron oxide, which was used for CO oxidation. Both experiments and density functional theory (DFT) calculations showed that Pt atoms lowered the CO adsorption energy and activation barrier for CO oxidation. SACs have also been shown to be useful in electrochemical energy conversion and storage[48-50], including the ORR[51-53], OER[54-56], HER[57-59] and CO2RR[60-62]. For superior catalytic performance, SACs with separated metal atoms dispersed on a conductive carrier represent promising electrode materials and have been increasingly used in Li- and Zn-air batteries in recent years.
In this review, we first give a brief introduction regarding Li- and Zn-air batteries and the geometric and electronic structures of SACs on carbon matrices. We then summarize the recent research progress of the applications of SACs in Li- and Zn-air batteries, with a particular focus on their catalytic mechanism. Finally, the future perspectives for the development of SACs are provided.
COMPARISON OF Li- AND Zn-AIR BATTERIES: ENERGY DENSITY, CELL CONFIGURATIONS AND PRINCIPLES
Energy density
Li-ion batteries are widely used in mobile phones and electric vehicles due to their large capacity and stable cycle performance[63-65]. However, due to their energy density limitations, the working times of mobile phones and the mileages of electric vehicles are reaching a plateau. Therefore, this has stimulated researchers to search for new battery systems with higher energy density, among which metal-air batteries have received widespread attention[66-68]. Since Abraham and Jiang invented rechargeable Li-air batteries in 1996, they have been divided into four types, namely, aprotic, water, hybrid and solid state, which utilize different electrolytes[69,70]. Among them, because of their excellent reversibility, aprotic Li-O2 batteries have received significant interest. As shown in Figure 1A, Li-air batteries offer the highest theoretical energy density of 11429 Wh kg-1, which is comparable to that of gasoline[71]. In addition, the theoretical energy densities of Al- and Mg-air batteries are also very high, with values of 8076 and 6815 Wh kg-1, respectively, which are five to six times that of Zn-air batteries (1353 Wh kg-1). However, their practical energy density is low due to the large polarization and low voltage. Furthermore, they are difficult to electrochemically charge in alkaline electrolytes, thereby limiting their practical application. In contrast, Zn is more stable and can be charged more successfully in alkaline electrolytes[72-74]. As shown in Figure 1B, the practical energy density of Zn-air batteries has reached 350 Wh kg-1, which is twice that of Li-ion batteries[75]. They also have a very stable working voltage and are the best power sources for advanced hearing aids[76-78], such as BTE, in-ear and ear canal devices. This has resulted in significant industrial interest in the research and development of Zn-air batteries for hearing aids. For example, Revolt recently signed a cooperation agreement with PhonakAG to jointly develop rechargeable Zn-air batteries for hearing aids.

Figure 1. (A) Theoretical energy densities for different types of metal-air batteries. Reproduced with permission: Copyright 2017, American Chemical Society[71]. (B) Gravimetric energy densities (Wh kg-1) for various types of rechargeable batteries compared to that of gasoline. Reproduced with permission: Copyright 2014, American Chemical Society[75].
The energy densities of Li- and Zn-CO2 batteries are also higher than that of Li-ion batteries, with the theoretical energy density of Li-CO2 batteries reaching 1876 Wh kg-1. Further research into the corresponding carbon dioxide batteries cannot only provide a deeper understanding of the CO2RR and CO2ER, but can also promote the study of the corresponding metal-oxygen batteries via an in-depth understanding of the formation and decomposition mechanism of their by-products.
Cell configurations and working principles of Zn- and Li-air batteries
SINGLE-ATOM CATALYSTS
Features
In 2011, Zhang and colleagues[47] first proposed the term "monoatomic catalysis" in their seminal work. In recent years, this has gradually been accepted by the catalytic community and has become a new field in catalysis. SACs, with their catalytic sites dispersed at the atomic level, utilize metal active sites to the greatest extent and usually exhibit ultrahigh activity and selectivity[97,98]. However, as shown in Figure 3, as the particle size of a catalyst is reduced to the atomic scale, the surface free energy increases rapidly and the single atoms tend to aggregate[99,100]. To understand and solve these problems, we need to develop a deeper understanding of the structures of SACs.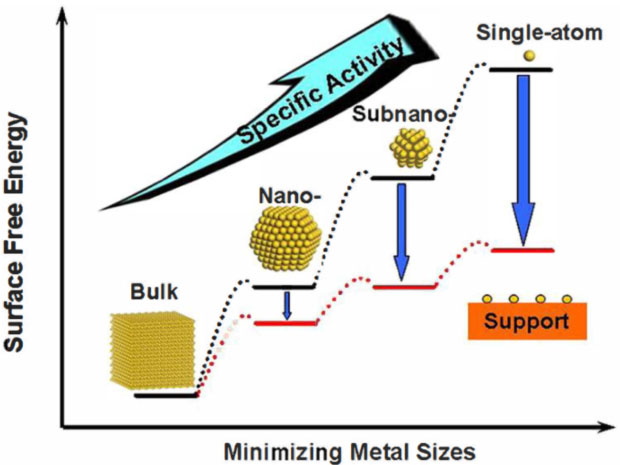 Figure 3. Schematic illustrating the changes in surface free energy and specific activity per metal atom with metal particle size and the support effects on stabilizing single atoms. Reproduced with permission: Copyright 2013, American Chemical Society[100].
Geometric and electronic structures
The strong interaction between a single atom and the surrounding ligands forms a catalytically active site[101]. This structure can be observed by AC-TEM HAADF-STEM AFM[102-104]. As displayed in Figure 4, the factors influencing the geometric structures of SACs on graphene substrates include the number of N atoms, the number of metal atoms, the bonding of other atoms (including the axial addition of atoms), the structural change of the matrix and the modification (doping) of the matrix.
Figure 4. Schematic illustration of different geometric structures of carbon-supported SACs and the function of adjusting the electronic structure.
When the geometric structure and chemical bond are established, charge transfer between the metal atom and the surrounding atoms occurs due to the difference in chemical potential[105,106]. The adsorption behavior of the catalyst is mainly controlled by the electronic properties of the active sites. Therefore, adjusting the electronic structure of the metal atom by altering the surrounding environment is the most common method to improve the inherent catalytic ability of a SAC[107]. For example, Luo and co-workers[108] conducted a computational search of 17 metal elements based on the model of the coordination of transition metals with four pyridyl nitrogen atoms in a graphene matrix and found that most M-N-Cs showed poor HER catalytic performance because the Gibbs free energy (ΔH) of their hydrogen adsorption is far from 0 eV. Only M-N-Cs with Co, Cr, Fe, Rh and V transition metals were found to be promising candidates, among which Co-N-C materials show the smallest |ΔGGH| (0.13 eV) and are therefore predicted to have the best HER activity.
Wang et al.[109] demonstrated via a CO2RR test that a Co-N2 catalyst with the highest FECO of 95% at -0.68 VRHE has a much better performance than Co-N4, which exhibited negligible activity. Furthermore, Pan et al.[110] established two FeN4-type active sites surrounded by different numbers of local carbon atoms, denoted as FeN4-C10 and FeN4-C8, respectively. DFT calculations showed that the oxygen adsorption energy increased from -0.95 to -1.67 eV and the OOH dissociation process at the FeO4-C8 position only requires an activation energy of 0.2 eV, which is 0.36 eV lower than the activation energy at the FeN4-C10 position. Yuan et al.[111] proved that the atomically dispersed Fe-Nx species on B-doped porous carbons have better ORR performance than undoped electrodes through linear sweep voltammetry polarization curves. Ren and co-workers[112] prepared an atom-dispersed Ni-Fe bimetallic center catalyst that showed better CO2RR performance than the corresponding Ni-Fe single center. These examples undoubtedly illustrate that the electronic structure of SACs is affected by multiple factors, and only when certain conditions are met synergistically can SACs with high catalytic performance be obtained.
APPLICATION OF SINGLE-ATOM CATALYSTS IN METAL-AIR BATTERIES
SUMMARY AND PERSPECTIVES
Compared with nanoparticles and nanoclusters, SACs undoubtedly exhibit superior catalytic performance. In this review, we briefly introduce the structural characteristics of Li- and Zn-air batteries and SACs, focusing on the applications of SACs in Li- and Zn-air batteries and the catalytic mechanism of SACs in Li- and Zn-air batteries. The limitations of current research are also discussed. Finally, a perspective is included highlighting the potential and challenges for the future development of SACs in Li- and Zn-air batteries.
Most of the recent reports on SACs as cathode catalysts are based on doping single atoms into N-doped carbon-based materials. Among them, in the category of single-metal SACs, most of the research reports employed M-Nx as the active sites with Fe and Co as the central atoms. On the basis of these reports, some reports provide new ideas, such as doping other atoms, such as S, P and O on the N-doped carbon matrix, or obtaining new active sites, or using bimetal doping to better improve ORR, OER and CO2RR performance. Although researchers are trying to alter the electronic structure in these ways to obtain catalysts that facilitate catalytic reactions, it is more likely that success will be achieved in permutations. The construction of a large database of SACs, classified by matrix and single-atom types, and the consolidation of a large amount of electronic structure information would be highly convenient for future SACs applications.
For SACs, DFT calculations have shown that the ORR follows the association mechanism of O2 - *OOH - *O - *OH - OH, while the OER goes on through the mechanism of OH - *OH - *O - * OOH - O2. SACs can change the ORR, OER and CO2RR RLSs, mostly to reduce the energy barriers of O2, CO2 adsorption and the removal of *OH. In Li-O2 batteries, SACs can effectively tune the structure and morphology of Li2O2 to reduce overpotentials. There is no doubt that SACs in Li- and Zn-air batteries deliver very good performance and researchers have made good progress in the catalytic mechanism of SACs, but there are also some problems due to the lack of effective in situ characterization techniques and the unclear electrochemical conversion mechanism of SAC materials in advanced batteries systems. Most studies on mechanism analysis use calculation methods, including DFT, to obtain the reaction energy barrier and simulate the transformation kinetics of the corresponding device. The parameter setting difference in the calculation process determines the accuracy of the calculation results. If incorrect modeling is encountered, it is difficult to achieve convergence.
Our vision seems to be limited to carbon-based materials. In fact, single-atom metals can also be doped on different substrates, such as oxides and selenides. The electrical conductivity of the substrate would be sufficiently high for electrocatalytic applications. In fact, some substrates show special functions in battery reactions. For example, when CeO2 is used as the substrate, the oxygen in its lattice can be involved in the ORR and OER, as an oxygen pump to reduce the reaction overpotentials. For example, the layered materials, MoS2 and MoSe2, are considered as excellent carriers and their (002) crystal face edges would contribute to extremely superior electrocatalytic performance. Moreover, the electrical conductivity of such a matrix can be improved by a series of methods, such as phase transformation and the construction of heterostructures. It is proposed that single-atom metals may be developed to form tri-metal doping or even four-atom clusters in the future, and they would eventually be expected to be deposited onto other substrates.
The lack of mass production technology for SACs has been a major impediment to their industrial applications. Currently, one-step annealing, co-precipitation and impregnation methods are widely used due to their ease of operation and potential for mass production, but the aggregation commonly leads to the formation of nanoparticles and metal clusters during operation. Therefore, it is necessary to explore facile synthesis processes for high-density, high-purity and large-scale SACs. Recently, the large-scale preparation of ultrahigh-density SACs (kilogram scale) for a variety of metals was developed by a combination of impregnation and two-step annealing process and other methods[153]. In particular, the single atoms with high mass loading were also directly anchored onto different carriers, such as carbon skeletons, oxides and nitrides. These advanced synthesis techniques demonstrate that SACs are expected to be used in industrial applications and would also contribute significantly to the development of Zn- and Li-air batteries.
DECLARATIONS
Authors' contributions
Conception of the study: Zhang J, Wang J, Zhang L
Analysis and manuscript preparation: Xia Q, Zhai Y
Performed the analysis with discussions: Li D, Zhao L
Availability of data and materials
Not applicable.
Financial support and sponsorship
This work was supported for collection, analysis and interpretation of data, and writing of the manuscript by the National Natural Science Foundation of China (22175108), the Natural Scientific Foundation of Shandong Province (ZR2020JQ09), the China Postdoctoral Science Foundation (No.2020M672054), the Guangdong Basic and Applied Basic Research Foundation (No. 2021A1515111124), the Natural Science Foundation of Shandong Province (No. ZR2020QB122), and the Young Scholars Program of Shandong University (No. 2019WLJH21).
Conflicts of interest
All authors declared that there are no conflicts of interest.
Ethical approval and consent to participate
Not applicable.
Consent for publication
Not applicable.
Copyright
© The Author(s) 2022.
Cite This Article
OAE Style
Xia Q, Zhai Y, Zhao L, Wang J, Li D, Zhang L, Zhang J. Carbon-supported single-atom catalysts for advanced rechargeable metal-air batteries. Energy Mater 2022;2:200015. http://dx.doi.org/10.20517/energymater.2022.13
AMA Style
Xia Q, Zhai Y, Zhao L, Wang J, Li D, Zhang L, Zhang J. Carbon-supported single-atom catalysts for advanced rechargeable metal-air batteries. Energy Materials. 2022; 2(3):200015. http://dx.doi.org/10.20517/energymater.2022.13
Chicago/Turabian Style
Xia, Qing, Yanjie Zhai, Lanling Zhao, Jun Wang, Deyuan Li, Lili Zhang, Jintao Zhang. 2022. "Carbon-supported single-atom catalysts for advanced rechargeable metal-air batteries" Energy Materials. 2, no.3: 200015. http://dx.doi.org/10.20517/energymater.2022.13
ACS Style
Xia, Q.; Zhai Y.; Zhao L.; Wang J.; Li D.; Zhang L.; Zhang J. Carbon-supported single-atom catalysts for advanced rechargeable metal-air batteries. Energy Mater. 2022, 2, 200015. http://dx.doi.org/10.20517/energymater.2022.13