Nickel and nickel alloys
Due to Ni being a 3D transition metal with earth-abundant sources, Ni-based electrocatalysts have the advantages of low expenditure, excellent electrocatalytic activity, outstanding stability and a high alloying degree with other metals. Ni electrocatalysts have important applications in the catalytic reaction of many industrial processes, especially in the fields of hydrogenation, secondary alkaline battery and water electrolysis[100]. It has been demonstrated that although Ni electrocatalysts exhibit superior OER electrocatalytic activity, they are vulnerable to corrosion, thus leading to final degradation in the consecutive reaction process[101]. As a consequence, the OER electrocatalytic performance of Ni electrocatalysts could be further enhanced by covering a conductive carbon layer on the electrocatalyst or providing support to prevent its agglomeration. For example, Ramakrishnan et al.[102] encapsulated Ni nanoparticles derived from Ni organic complexes in nitrogen-doped mesoporous carbon nanostructures (NCNPs) [Figure 8A], which displayed remarkable OER electrocatalytic performance in alkaline solutions. Li et al.[103] assembled FeNi bimetallic nanoparticles on a MOF-derived carbon matrix as an OER electrocatalyst (FexNiy-BDC, BDC = benzenedicarboxylate) [Figure 8B]. In this regard, the porous structure of the MOF-derived carbon matrix provided a broad specific surface area and the electronic synergy between Fe and Ni stabilized the OER active components of this electrocatalyst. Therefore, the FexNiy-BDC electrocatalyst presented better OER electrocatalytic performance. Wang et al.[104] utilized a MOF-74 derived matrix to anchor NiCo/Fe3O4 hybrid nanoparticles and used them as OER electrocatalysts [Figure 8C]. DFT calculation showed that NiCo species could promote the stability of the OER active species in the electrocatalytic process. In addition, the synergistic effect between Fe3O4 and NiCo in the NiCo/Fe3O4 hybrid materials also helps to boost the OER electrochemical activity.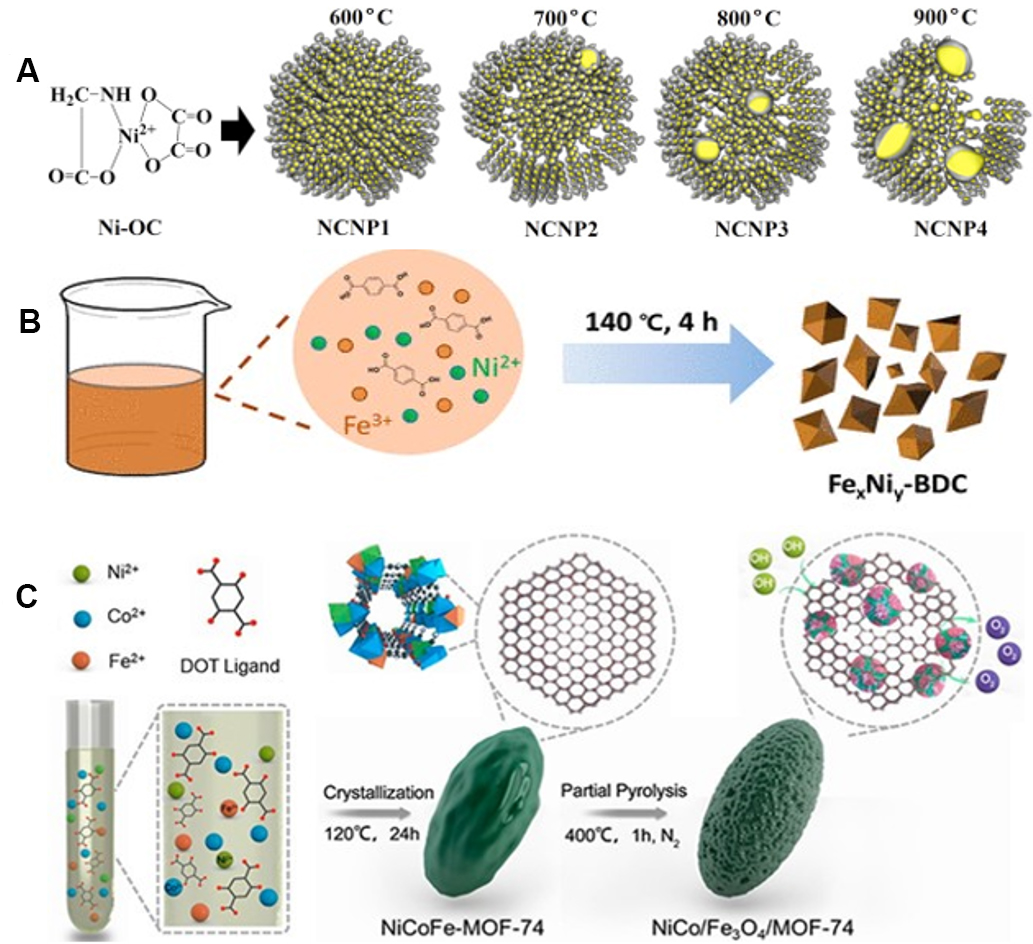 Figure 8. (A) Schematic representation of NCNP composite synthesis. (B) Schematic of FexNiy-BDC synthesis. (C) Schematic of NiCo/Fe3O4/MOF-74 synthesis. Reproduced with permission. Copyright 2019, Elsevier[102].
Nickel selenide
Matching metal Ni, nickel selenide (NiSe2) has been examined for a wider range of applications and can easily be synthesized or grown with various porous nanostructures with high conductivity and specific surface area. NiSe2 can be converted into nickel oxide and hydroxide at oxidation potentials as an active species of OER electrocatalysts. In addition, NiSe2 deposited on a conductive carbon matrix or alloyed with other transition metals could significantly improve its OER electrocatalytic activity and stability[105]. Swesi et al.[106] fabricated metal-rich NiSe2 on a gold-plated silicon substrate using an electrodeposition strategy. The electrodeposited NiSe2 film containing Ni-Ni bonds had a phase structure similar to that of the sulfur mineral heap iron ore. Due to annealing at 300 °C, more Se defect sites were introduced, so the catalytic efficiency and overall crystallinity of the electrocatalyst were accordingly improved. Gu et al.[107] prepared iron-doped nickel selenide electrocatalysts (Fe-NiSe2-UNWs) and investigated their effect on the OER performance [Figure 9]. The results demonstrated that in a 0.1 M KOH solution, the 8.4% Fe/NiSe2 electrocatalyst had the best OER electrocatalytic performance (ƞ10 = 268 mV and ζ = 41 mV dec-1). According to DFT calculations, Fe doping could adjust the electronic structure of NiSe2, effectively reduce the energy barrier of OER intermediate species and improve the corresponding catalytic performance.
Figure 9. (A) Schematic illustration of the binary soft-template-mediated synthesis of Fe-NiSe2 UNWs. (B) TEM image, (C) HAADF-STEM image, and (D) HR-HAADF image of Fe-NiSe2 UNWs. (E) STEM-EDS elemental mapping images of Fe-NiSe2 UNWs, showing the distribution of Ni green, Fe yellow, and Se blue. (F) Polarization curves for OER on bare GC electrode and modified GC electrodes composed of the pure and Fe-doped NiSe2 samples and commercial RuO2. Catalyst loading: 0.2 mg cm-2. Sweep rate: 5 mV s-1. (G) Tafel plots for corresponding catalysts derived from (F). Reproduced with permission. Copyright 2018, Wiley[107].
Liu et al.[108] developed a nickel selenide electrode with PANI surface functionalization (NiSe-PANI) [Figure 10]. The modified PANI layer finely modulated the surface electronic structure of NiSe, optimized the surface Se-rich structure of NiSe and improved the formation of Ni3+ active species. When NiSe-PANI was used as a bifunctional electrocatalyst for total electrolytic water reaction, the NiSe-PANI electrode exhibited significant electrocatalytic activity (ƞ10 = 300 mV), equivalent to the performance of Pt and IrO2 combined electrodes. Similarly, other PANI-functionalized nickel sulfur electrodes also exhibited good total electrolytic water reaction performance, which proved that the electronic modulation strategy of PANI surface functionalization had universal applicability for improving the intrinsic OER electrochemical activity. Hou et al.[109] reported a 3D hybrid electrocatalyst that was constructed through the in situ anchoring of Co9S8 NSs onto the surface of Ni3Se2 NSs vertically aligned on an electrochemically exfoliated graphene foil. Benefiting from the synergistic effect between Ni3Se2 and Co9S8, it could be easily integrated with a macroporous silicon photocathode for highly active solar-driven photoelectrocatalytic water-splitting for the OER. Lee et al.[110] developed three possible polymorphic forms of nickel selenide (orthorhombic NiSe2, cubic NiSe and hexagonal NiSe) as bifunctional electrocatalysts for photoelectrocatalytic systems. Photocathodes or photoanodes were fabricated by depositing the nickel selenide NCs onto p- or n-type Si nanowire arrays. Experiments revealed that compared to the other two types, the orthorhombic NiSe2 NCs were more metallic and formed fewer surface oxides, which increased the photocurrent and transfer onset potential, resulting in better photoelectrocatalytic performance and exerted efficient water-splitting ability.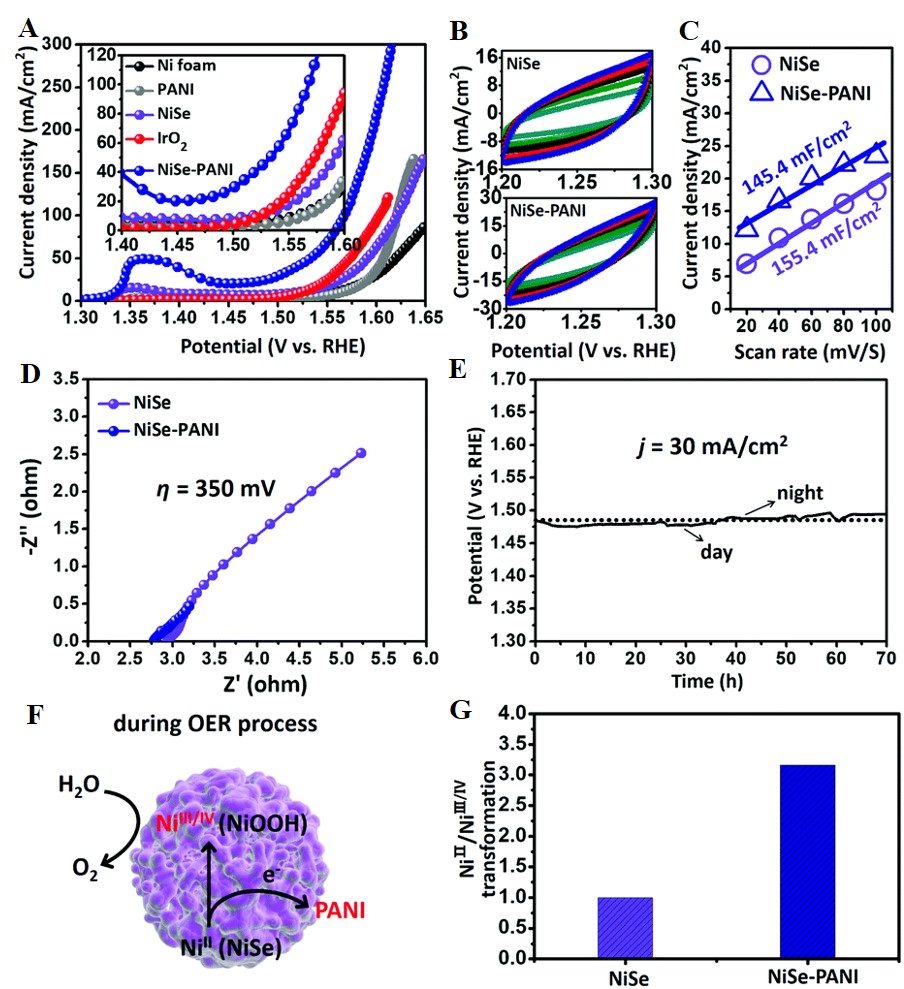 Figure 10. OER electrocatalytic performance. (A) LSV curves for OER of blank Ni foam, PANI, NiSe, commercial IrO2 deposited on Ni foam (~1 mg·cm-2) and NiSe-PANI. (B) Cyclic voltammograms of NiSe and NiSe-PANI at different scan rates (from 20 to 100 mV·s-1 with an increment of 20 mV·s-1). (C) Scan rate dependence of current densities for NiSe and NiSe-PANI at 1.25 V vs. RHE. (D) Nyquist plots of NiSe and NiSe-PANI at ƞ of 350 mV. (E) Chronopotentiometric curves of NiSe-PANI at j of 30 mA·cm-2 for a continuous OER process. (F) Schematic mechanism of NiSe-PANI for an efficient OER. The enhanced generation of NiIII/IV active species when oxidized promotes the OER process. (G) Normalized transformation of NiII to NiIII/IV on the basis of NiSe, revealing the enhanced generation of NiIII/IV due to PANI functionalization. Reproduced with permission. Copyright 2018, Royal Society of Chemistry[108].
Nickel hydroxide and hydroxyl oxides
Among the nickel-based materials that catalyze OER, nickel hydroxide and its hydroxyl oxides (collectively referred to as NiOx) are a class of electrocatalytic materials with excellent application prospects[111]. Since the sluggish kinetics of the OER are the main limitations of the performance of hydrogen production from electrolytic water, improving the catalytic performance of NiOx on the OER has been the focus of major research[112]. In order to better understand the effect of NiOx species on the catalytic performance of the OER, it is very important to analyze the structural and phase changes in the water oxidation reaction. Luan et al.[113] synthesized a 2D-Ni(OH)2 catalytic material by a layered reverse micelle method because the 2D-Ni(OH)2 phase could be formed at an anodic potential γ-NiOOH active phase, thus showing better OER catalytic activity and stability. Gao et al.[114] controllably prepared α-Ni(OH)2 and β-Ni(OH)2 by a solvothermal system and compared their OER catalytic activities. The results indicated that α-Ni(OH)2 than β-Ni(OH)2 presented better OER activity and higher stability [Figure 11], which was mainly due to the formation of γ-NiOOH through α-Ni(OH)2, thus promoting the diffusion of OER intermediates and the corresponding conversion to O2. After characterizing and analyzing the surface morphology of α-Ni(OH)2 and β-Ni(OH)2 for 500 CV cycles by TEM, it was demonstrated that the α-Ni(OH)2 phase could be easily transformed into γ-NiOOH without material expansion or mechanical deformation, whereas for β-Ni(OH)2, a large number of nanoparticles were observed to accumulate and the surface was severely corroded after CV cycling, manifesting that β-Ni(OH)2 had weak structural stability during the OER process due to Jahn-Teller distortion (spontaneous symmetry break in solid-state system) at the low spin d7 Ni3+ center. Similarly, Dou et al.[111] compared the OER activities of only γ-NiOOH with both containing γ-NiOOH and β-NiOOH. It was found that the electrocatalytic activity of γ-NiOOH for OER was much higher than that of NiOOH mixed with γ- and β-phases. The high OER electrochemical activity of γ-NiOOH phase was attributed to its large layer spacing, which facilitated the diffusion of electrolytes and the desorption of O2 molecules on the electrocatalyst surface.
Combined with the above discussion on the OER activities of β-NiOOH and γ-NiOOH, Li et al.[115] directly confirmed that the OER catalytic activity of γ-NiOOH was better than β-NiOOH. Nevertheless, γ-NiOOH or β-NiOOH with high activity on OER was still controversial. Some research has elucidated that γ-NiOOH is the active center of the OER, while other researchers have claimed that β-NiOOH is the active center of the OER. Therefore, all these contradictory studies on NiOx active centers illustrate that, in addition to the active phase, the OER activity of NiOx electrocatalyst also depends on its preparation method, initial precursor (mainly containing trace transition metal impurities, such as Fe, Ce, Cd, Pb and Zn), electrode cycle, morphology, active surface area and electrolyte[116,117]. More specifically, Corrigan et al.[116] found that the inclusion of Fe into the Ni(OH)2 could significantly accelerate OER kinetics, while doping other transition metal elements, such as Cd, Pb and Zn, hindered the catalytic performance of the OER. According to the experimental observation, the significant effect of Fe on the OER activity of Ni(OH)2 was mainly associated with the change of electrocatalyst conductivity and the formation of the active center, which was more favorable to catalyzing OER intermediates. Correspondingly, Trotochaud et al.[117] detected Fe impurities in NiOOH from an analytical grade KOH solution. They found that the presence of a small amount of Fe impurities in NiOOH could significantly promote the OER activity, while NiOOH exhibited inferior OER activity in a Fe-free KOH electrolyte (raw KOH was completely purified from Fe impurities).
Many theoretical and experimental groups have researched the role of Fe into Ni(OH)2 and NiOOH for the OER activity to judge whether Fe itself acts as the active center or just activated Ni(OH)2 and NiOOH to obtain better OER performance[118]. Friebel et al.[119] carried out DFT calculations of the OER on γ-NiOOH and Fe-doped γ-NiOOH. The results demonstrated that the overpotential of Fe-doped γ-NiOOH to the OER (0.43 V) was much lower than that of γ-NiOOH (0.56V) and Fe in Ni1-xFexOOH was the active center of the OER. In addition, the effect of Fe on the structure of Ni(OH)2/NiOOH electrocatalyst was investigated by EXAFS characterization. The results concluded that the addition of Fe did not change the Ni-O bond length but the Fe-O bond length exhibited an obvious shrinkage in the oxidation of Ni1-xFexOOH, which optimized the binding adsorption energy of OER intermediates and reduced the OER overpotential. Wu et al.[120] compared the OER catalytic activities of NiO/NF and Fe-doped NiO/NF (Fe11%-NiO/NF). The results presented that Fe11%-NiO/NF had better OER electrocatalytic performance and higher stability than NiO/NF. The Fe doping of Fe11%-NiO/NF electrocatalyst and its mesoporous structure was mainly responsible for the excellent OER catalytic performance [Figure 12]. Among them, the mesoporous NS structure of NF provided rich open space for facilitating the diffusion of electrolytes and the close contact between electrolytes and electrocatalysts. More importantly, Fe doping reduced the energy barrier of molecular oxygen generated by OER intermediates.
Li et al.[121] compared the OER activities of NiFe-LDH and Ni (OH)2NS electrocatalysts. The results showed that the OER activity of NiFe-LDH was smaller than that of Ni(OH)2 NSs. Furthermore, they also researched the effect of vanadium doping into the NiFe LDH (NiFeV-LDH) electrocatalyst on OER activity. The results disclosed that NiFeV-LDHs delivered high OER catalytic activity and stability. The result was attributed to the reason that the electronic structure of the whole electrocatalyst was changed by vanadium doping, which improved its conductivity and the number of catalytic active sites. Li et al.[122] deposited double oxygen evolution catalyst (OEC) layers (FeOOH and NiOOH) over the nanotube array-like WO3 (WA) surface to form a WA-OEC photoanode. Therein, FeOOH greatly reduced the WA/OEC interface electron-hole pairs recombination rate, while NiOOH restricted the recombination of electron-hole pairs at the OEC/electrolyte interface and significantly improved the corresponding OER activity. The WA/OEC photoanode had a photocurrent density of 120 μA·cm-2 under simulated sunlight illumination, showing a good photoelectrocatalytic water-splitting efficiency. Wei et al.[123] composited NiOOH with CdS as a photoelectrocatalyst (CdS/NiOOH). After a 3600 s photoelectrocatalytic stability test, the stability of CdS/NiOOH was significantly improved by 44.50% compared with pure CdS due to NiOOH preventing the oxidation of CdS by trapping photogenerated holes. Furthermore, the deposition of NiOOH was more beneficial in accelerating the separation of photogenerated carriers, thereby enhancing the photoelectrocatalytic activity for the water-splitting process. Pirkarami et al.[124] synthesized a novel 3D CdS@NiCo-LDH material as a cost-effective, bifunctional and efficient photoelectrocatalyst for water splitting, which had the advantages of high specific surface area, fast electron transfer and multiple channels to release gaseous products, resulting in better electrocatalytic OER activity in alkaline environments. When using this electrocatalyst for the HER, it could achieve current density values of 10 and 100 mA·cm-2 at voltages of 379 and 202 mV, respectively.
Nickel is the fourth largest metal element in terms of reserves and has the same main group as platinum with high electrocatalytic activity. Therefore, research into Ni-based materials as HER electrocatalysts has proved both popular and fruitful[125]. For example, Zhang et al.[126] successfully prepared NiCo2Px nanowires (NWs) and after conducting characterization and performing experiments, concluded that for the HER in 1.0 M KOH, the NiCo2PxNWs delivered negligible attenuation at 250 mA·cm-2 after 5000 CV cycles, indicating reasonably high durability. They also showed relatively high HER activity (ƞ = 58 mV at 10 mA·cm-2) and negligible attenuation at 30 h under an overpotential of ƞ = 100 mV, indicating its ultralong stability [Figure 13]. Li et al.[127] obtained porous sea urchin-like Ni0.5Co0.5P by the combination of calcinating and phosphating treatment of NiCo(CO3)(OH)2 in an Ar atmosphere. For the HER in 1.0 M KOH, the electrocatalyst presented negligible attenuation after 1000 CV cycles, indicating its high durability and activity for the HER (ƞ of 87 mV at 10 mA·cm-2). Wang et al.[128] synthesized a Ni-reduced GO (rGO) nanostructure using an electrodeposition strategy in a supergravity field. Benefiting from its high surface area, good electrical conductivity and synergistic effect between Ni nanoparticles and rGO sheets, the Ni-rGO exhibited reasonable stability at 250/100 mA·cm-2 for the HER during a durability test in 1.0 M NaOH. It also showed excellent HER activity (ƞ of 36 mV at 10 mA·cm-2). Similarly, Ni/C3N4 nanostructured composites prepared by electrodeposition under a supergravity field could also improve the stability and activity for the HER. Wang et al.[129] reported that nanostructured Ni/C3N4 exhibited high stability and activity for the HER in 1.0 M NaOH. More specifically, the Ni/C3N4 presented high HER activity (ƞ of 222 mV at 10 mA·cm-2) and negligible attenuation at 100 mA·cm-2 within 12 h.
In addition, like iron, nickel phosphide and sulfide also have good HER electrocatalytic activity. For example, Wang et al.[130] prepared Ni(OH)2•0.75H2O by a hydrothermal method and then phosphated the nanostructured Ni5P4 in a N2 atmosphere at 370 °C. The electrocatalyst exhibited high conductivity, which significantly enhanced its high activity and stability for the HER. For the HER in 1.0 M KOH, Ni5P4 showed negligible decay after 3600 CV cycles, indicating its very high durability and HER activity (ƞ of 47 mV at 10 mA·cm-2). Wang et al.[131] reported that the high HER activity of NixPy could be achieved by simply growing in 3D-NF. 3D-NF had a porous layered structure and large specific surface area, which significantly reduced the diffusion path length of ions and improved the electron and ion conductivity in the HER process. In addition, Lado et al.[132] found that Al-doped Ni-P (AlNiP) provided higher HER catalytic activity (ƞ10 = 111 mV) than pure NiP (ƞ10 = 175 mV). This indicated that the doping of Al changed the state density of NiP to reduce the energy barrier of the HER dynamics.
Tong et al.[133] prepared Ni3S2 by a hydrothermal method and showed that Ni3S2 nanorods@Ni3S2 NSs exhibited higher HER activity than Ni3S2 nanorods. Ni3S2 formed by a nanorod@nanosheet homojunction can provide abundant active sites to reduce electron transport and promote gas release, which might enhance its high durability and activity for the HER [Figure 14]. For the HER in 1.0 M KOH, Ni3S2 showed negligible attenuation after 10,000 CV cycles, indicating very high durability, it also delivered very high HER activity (ƞ of 48.1 mV at 10 mA·cm-2) and reasonable stability at 48 mV for 24 h. Yang et al.[134] first fabricated nanoporous Cu by electrodeposition and etching and finally prepared nanoporous Ni3S2@Cu by an electrodisplacement strategy. The porous structure of the electrocatalyst provided a large number of active sites, which enhanced its catalytic activity and durability for the HER. For the HER in 1.0 M KOH, the Ni3S2@Cu activated catalyst exhibited negligible decay at 200 mA·cm-2 after 2000 CV cycles, which indicated its much high durability, and much higher HER activity (ƞ of 60.8 mV at 10 mA·cm-2). In addition, Long et al.[135] synthesized Fe-Ni ultrathin NSs as an acidic HER electrocatalyst, which exhibited excellent HER activity (ƞ10 = 105 mV and ζ = 40 mV dec-1) and high stability. Qu et al.[136] developed vanadium-doped Ni3S2NW on NF, which presented good stability of ƞ10 = 68 mV and 8000 CV cycles in alkaline solution. In addition, Wang et al.[137] synthesized a platinum nickel/nickel sulfide nanowire (Pt3Ni/NiS nanowire) as a HER electrocatalyst, which displayed j = 37.2 mA·cm-2 in ƞ = 70 mV in a 1 M KOH solution, 9.7 times better than 20% Pt/C.
It is precisely because these transition metals (Fe, Co and Ni) have the advantages of low expenditure, chemical stability, unique and adjustable electronic structure, rich redox states and high intrinsic activity that they are not only regarded as the best potential alternatives to replace traditional noble-metal-contained OER/HER electrocatalysts but can also be used as energy storage materials in the field of clean energy, such as lithium-ion batteries, fuel cells and supercapacitors[138]. Although some important research progress has been made in the preparation and theory of these metals and some matrix materials as functional materials, there still exist several problems to be resolved. On the one hand, due to the facile aggregation characteristics of these nanomaterials, the exposed quantity and quality of functional active sites are undesirable. On the other hand, due to the characteristics of the metastable structure of quantum-level nanomaterials, their structures were vulnerable to structural collapse and agglomeration. These phenomena could easily cause the functional exposed active sites to be covered and inactivated. Therefore, it still remained a big challenge to resolve the high-quality and high-density active site exposure and structural stabilities of these materials employed in these fields.