Abstract
In recent years, energy storage and conversion have become key areas of research to address social and environmental issues, as well as practical applications, such as increasing the storage capacity of portable electronic storage devices. However, current commercial lithium-ion batteries suffer from low specific energy and high cost and toxicity. Conversion-type cathode materials are promising candidates for next-generation Li metal and Li-ion batteries (LIBs). Metal fluoride materials have shown tremendous chemical tailorability and exhibit excellent energy density in LIBs. Batteries based on such electrodes can compete with other envisaged alternatives, such as Li-air and Li-S systems. However, conversion reactions are typically multiphase redox reactions with mass transport phenomena and nucleation and growth processes of new phases along with interfacial reactions. Therefore, these reactions involve nonequilibrium reaction pathways and significant overpotentials during the charge-discharge process. In this review, we summarize the key challenges facing metal fluoride cathode materials and general strategies to overcome them in cells. Different synthesis methods of metal fluorides are also presented and discussed in the context of their application as cathode materials in Li and LIBs. Finally, the current challenges and future opportunities of metal fluorides as electrode materials are emphasized. With continuous rapid improvements in the electrochemical performance of metal fluorides, it is believed that these materials will be used extensively for energy storage in Li batteries in the future.
Keywords
Metal fluorides, cathodes, Li-ion batteries, conversion reaction
INTRODUCTION
The story of Li batteries started in the 1950s when lithium metal was used as an anode material in non-aqueous primary cells[1-5]. The high energy densities and low chemical potential of Li/Li+ (-3.04 V vs. SHE) make Li batteries the most favorable devices for energy storage. Later, in 1977-1979, coin cells based on a TiS2 cathode, Li-alloy anode, and organic electrolyte (LiClO4-dioxolane) were successfully commercialized by Exxon[5], followed by comprehensive research on a series of Li-free cathode materials, including TaS2, MoS2, TiS2, VS2, NbS2 and CrS2[5,6]. Unfortunately, secondary batteries with Li metal anode carry a risk of explosion due to the growth of lithium dendrites that can pierce the separator during cycling. To solve this problem, the Li-metal anode was replaced by a carbon anode to assemble powerful and safe Li-ion batteries (LIBs). Presently, the fast-growing market requires next-generation rechargeable Li and LIBs to charge faster, have higher energy density and be cheaper and safer. Battery materials with high capacity are therefore being largely developed and explored in advanced LIBs. Unfortunately, many of the cathode materials, like lithium cobalt oxide, lithium nickel oxide, and LiMn2O4, used nowadays for traditional LIBs have limits in electrochemistry, such as low energy density, safety hazards, high price, and environmental issues. Recently, owing to the progress in solid electrolyte research, Li-metal batteries are expected to make a comeback[3,7-9] as the anode material is based on metal Li, and it is therefore not essential for the cathode to contain Li.
Efforts to prepare Li-free cathodes have increased in recent years because of the perspective advantages of Li-free cathode materials, such as eco-friendliness, low cost, and high capacity. As one type of Li-free cathode material, conversion-type metal fluoride cathodes, which exhibit low cost and high theoretical capacity, have recently attracted substantial attention[10]. Mainly, Li-S battery systems have been widely considered, but S cathodes still face several issues, such as the dissolution of intermediate lithium polysulfides in the electrolyte and low volumetric energy density[11,12]. The high ionicity of the M-F bond favors a higher reaction voltage compared to their oxide and sulfide counterparts[13]. Therefore, metal fluoride-based cathodes (e.g., NiF2, FeF2, FeF3 and so on) hold significant promise for energy storage applications[14-17].
Figure 1A shows the theoretical specific capacities and operational voltages for Li-free cathodes[3]. It is found that metal fluorides have the highest electromotive force due to the high electronegativity of F. Metal fluoride cathodes also show high gravimetric (> 1600 Wh kg-1) and volumetric (> 6700 Wh L-1) energy densities [Figure 1B and C] compared to LIBs cathodes, such as LiNi0.5Mn1.5O4 and sulfur. Figure 1D shows the cell energy densities of transition metal fluorides, with values of 1172 Wh kg-1 (2178 Wh L-1) for CuF2 and 1125 Wh kg-1 (1782 Wh L-1) for FeF3. It is noteworthy that the real energy densities will decrease because a higher percentage of carbon and solid-state electrolytes need to be mixed with the cathodes and anodes to improve the ionic and electron conductivity and achieve better battery performance. Nevertheless, it still remains much higher than that of current LIBs (150-300 Wh kg-1).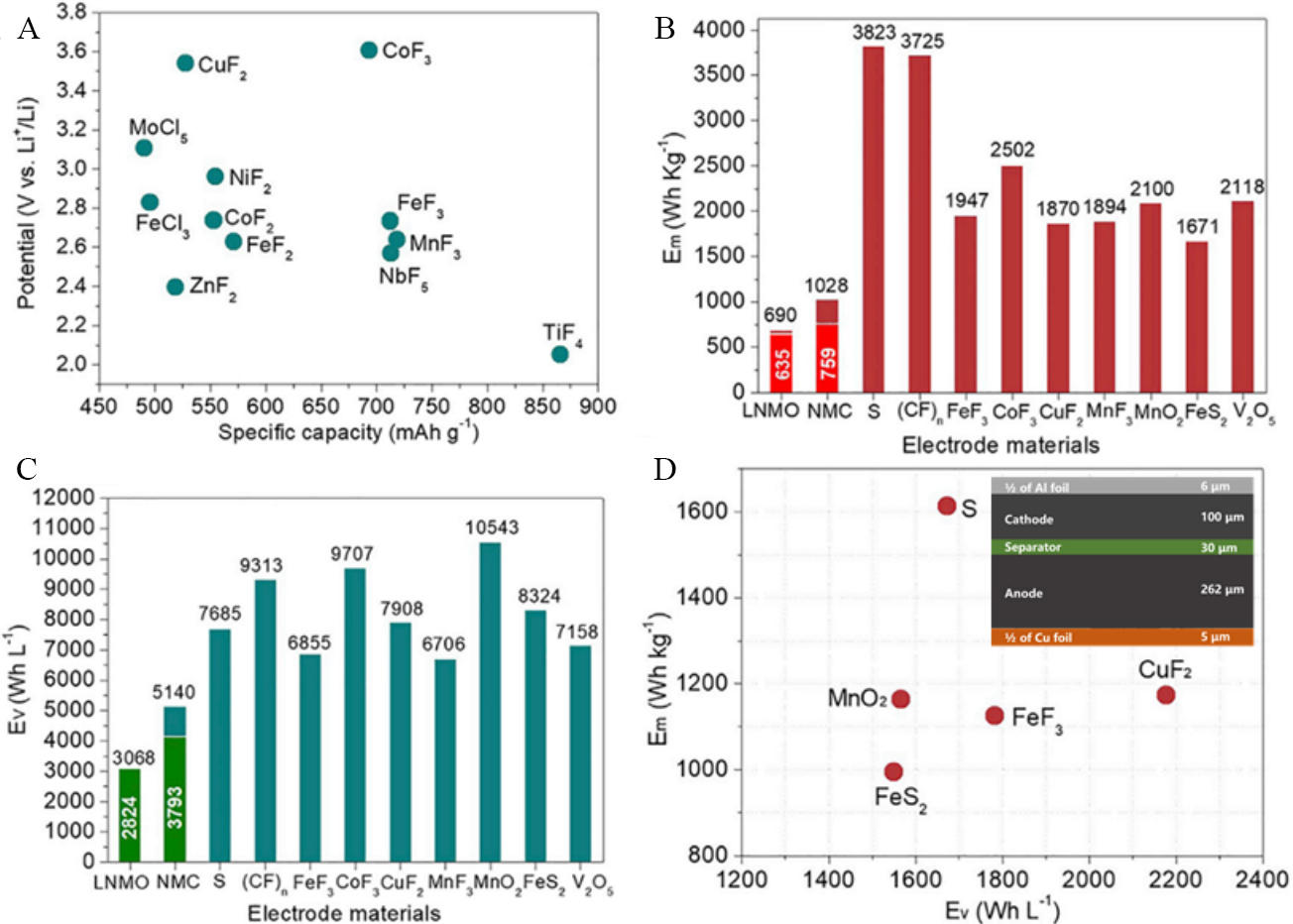 Figure 1. (A) Theoretical specific capacity and operational voltage for conversion cathodes. (B) and (C) Gravimetric and volumetric energy densities of Li-free cathodes (LiNi0.5Mn1.5O4 denoted as LNMO and Li(NiMnCo)1/3O2 denoted as NMC). (D) Energy density of solid-state Li batteries with different cathodes: FeF3; CuF2; MnO2; S (inset shows a schematic of a solid-state battery). Reproduced from Ref.[3] with permission. Copyright 2019 Elsevier Inc.
Recently, Na- and K-ion batteries are becoming more promising for large scale energy-storage, which can alleviate the concerns regarding the scarcity of Li resources. Although the well-established LIB technology can be exploited for them, their energy density is generally lower than that of LIBs. Therefore, developing high-performance electrode materials is also one of the research emphases for Na- and K-ion batteries. Metal fluorides (FeF2, FeF3 and CuF2) exhibit promising electrochemical performance, which could be the solution for batteries in the future.
In this review, we summarize the key challenges facing metal fluoride cathode materials and general strategies to overcome them in cells. Different synthesis methods for these materials are described and their electrochemical applications as cathode materials in Li batteries and LIBs are discussed. Finally, the current challenges and future opportunities of metal fluorides as electrode materials are emphasized. We provide a conclusive review of the recent progress made for the rational design of metal fluoride cathode materials in electrochemistry for energy storage in Li batteries.
CONVERSION REACTION MECHANISM IN METAL FLUORIDE CATHODES
As one of the reaction pathways for batteries, conversion reactions involve the reduction of the active material into metallic nanoparticles and the formation of a Li compound, which is different from intercalation and alloying reactions. The generalized reaction formula can be expressed as:
MaXb + (b · n)Li = aM + bLinX (M = metal; X = O, S, F or P) (1)
It should be noticed that an alloying reaction can take place when M is electrochemically active with Li (e.g., Sn, Sb or Zn), but this is beyond the scope of this review. Conversion-type electrode materials can usually achieve high reversible capacity because the specific capacity can be increased by using metal compounds with high oxidation states. In addition, the working potential of these materials can be easily controlled by tuning the ionicity of the M-X bond.
In 1997, FeF3 was first introduced as a prospective insertion-type LIB cathode material with a high theoretical energy density (237 mAh g-1) based on a one-electron transfer and high discharge platform (average of 3 V). This opens up potential opportunities for next-generation LIBs[18]. Three decades later, the physical proof and stability of the metal fluoride conversion electrode have been separately demonstrated[19,20]. The past decade has witnessed tremendous advances in the preparation of metal fluoride electrode materials with improving electrochemical performance. The electrochemical performance, morphology, and particle size of some of the recent metal fluoride cathode nanomaterials are summarized in Table 1.
Table 1
Electrochemical performance of metal fluoride cathode materials for LIBs
Electrode materials
Morphology
Particle size (nm)
Specific capacity (mAh g–1)
Cycle number
Ref./Year
FeF3
layer hexagonal
-
80
-
[18] 1997
TiF3
layer hexagonal
-
80
-
VF3
layer hexagonal
-
80
-
MnF3
layer hexagonal
-
80
-
FeF3
Film
200-300
571.2
30
[21] 2006
NiF2
Nanoparticles
20-30
540
35
[22] 2008
FeF3·0.33H2O
sponge-like
10
712
35
[23] 2010
Li3FeF6
prismatic particles
50
100
-
[24] 2010
FeF3·0.33H2O
hierarchy
11
115
50
[25] 2011
CuF2
Thin film
200
424
45
[26] 2011
FeF2
Nanoparticles
< 5
[27] 2011
CuF2
5-12
FeF2
Nanoparticles
9.1
[28] 2012
FeF3
Nanoparticles
600
[29] 2012
FeF3
Nanoparticles
5
~200
80
[30] 2012
FeF3
Nanoparticles
55
140
50
[14] 2013
FeF3·0.5H2O
Nanoparticles
10
115
100
[31] 2013
FeF3
Nanospheres
70-100
222
50
[32] 2013
FeF3·0.33H2O
Nanoparticles
10
140
100
[33] 2013
FeF2
Films
850
511
10
[34] 2014
FeF2.2(OH)0.8·(H2O)0.33
hexagonal-shaped particles
750
110
40
[35]2014
FeF3·0.33H2O
Cylindrical
1000-2000
137
100
[36] 2014
FeF3·0.33H2O
Nanopetal
123
50
[37] 2014
FeF3
Particles
> 200
50
[38] 2014
Fe1.9F4.75·0.95H2O
Nanorods
148
100
[39] 2014
FeF3
Nanocrystals
30
200
[40] 2014
CuF2
[41] 2014
FeF3
Powders
230
60
[42] 2015
LiF/FeF3
Nanoparticles
260.1
[43] 2015
FeF3·0.33H2O
Nanopetals
15
145
30
[44] 2015
MoF3
[45] 2015
FeF3
Powder
237
30
[46] 2015
Β-FeF3·3H2O
Nanoparticles
146.5
10
[47] 2015
FeF3
[48] 2016
FeF3
Nanoparticles
423
[49] 2016
MnF2
Nanoparticles
50-200
489
100
[50] 2016
HTB-FeF3
200-450
100
[51]2016
FeF3·0.33H2O
250
[52] 2016
MnF2
Nanorods
420
2000
[53] 2016
FeF3
fusiform structure
137.3
100
[54] 2017
FeF3
nanocrystals
93.8
500
[55] 2017
FeF3·3H2O
Flower-like
172.3
50
[56] 2017
CuF2
[57] 2017
FeF3
Nanocrystal
5-20
155
100
[58] 2017
CoF3
Nanopowder
390
14
[59] 2017
CuF2
Nanostructures
270
[60] 2017
Li2NiF4
Nanospheres
548
40
[61] 2017
FeF3
Nanosheets
[62] 2018
FeF3·0.33H2O
Hierarchical
[63] 2018
FeF3
[64] 2018
CoF3
550
[65] 2018
FeOF
Cubic
[66] 2018
CuF2
Nanoparticles
30-70
[67] 2018
LiF/Fe/Cu
375-400
200
[68] 2019
CuF2
[69] 2019
FeF2.2(OH) 0.8
[70] 2019
FeF2
[71] 2019
FeF3·0.33H2O
Microspheres
172
[72] 2019
MnF2
Nanolayer
296.8
100
[73] 2019
FeF3·0.33 H2O
Nanoparticles
190
50
[74] 2019
FeF3·0.33H2O
Raspberry-like
284
100
[75] 2020
Among all the metal fluoride phases, FeF3 cathodes with the multielectron transfer mechanism have received the most attention because of their high energy density and low cost. This material converts to nanocomposites of metal nanoparticles dispersed in a LiF matrix during the conversion reaction. Metallic iron may be nucleated to form nanosized Fe particles at the same initial atomic sites in the old phase, while newly formed LiF occupies the space around the metallic iron nanoparticles on the other side during lithiation. The diffusion coefficients of the anions and cations, the ionic and electronic conductivities of the new phase and the interfacial energies can be used to control the morphology of these cathode materials. Numerous studies have correlated the phase behavior in the insertion regime with reaction kinetics but with different mechanisms. The majority of studies indicate that the ReO3 structure comprising corner-sharing FeF6 groups transforms into the trirutile LixFeF3 phase with an edge-sharing structure. There is a transformation that involves a considerable change in the Fe ordering and anion packing, albeit with different x values. Recently, Hua et al. revealed that FeF3 lithiation is mainly a diffusion-controlled substitution mechanism. Furthermore, there is a clear topological relationship between the metal fluoride and F− sublattices to that of LiF[7], as shown in Figure 2. FeF2 is formed on the particle surface during the initial lithiation of FeF3. The A-LixFeyF3 phase (cation ordered and stacking disordered) is then formed along with FeF2. This structure is related with α-/β-LiMn2+Fe3+F6 and can topotactically transform to B- and then C-LixFeyF3 before forming LiF and Fe.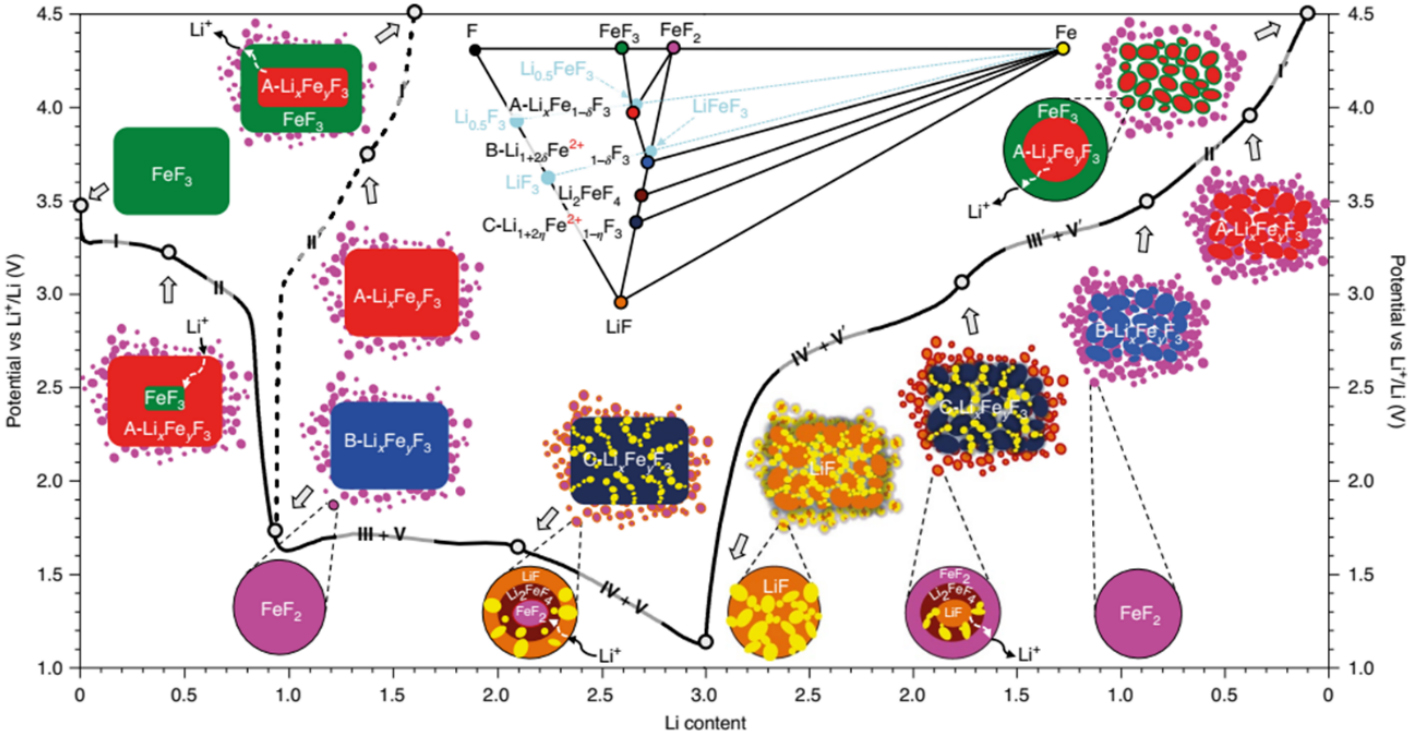 Figure 2. Reaction pathways of FeF3-FeF2 cathode. The reference phases in the phase diagram are indicated by light blue circles to show the positions of A- and B-LixFeyF3, whose Fe concentration is off-stoichiometric. Reproduced from Ref.[7] with permission. Copyright 2021 Springer Nature.
Iron fluoride (FeF2) has also been widely studied as a model system for mechanistic studies. However, the lithiation of FeF2 involves the formation of nanosized reaction products (LiF and Fe) and many possible intermediate phases. Karki et al. studied the conversion reactions in a single crystal of FeF2. They reported a lithiation-driven topotactic transformation between the parent and converted phases by in situ visualization of the spatial and crystallographic correlation[9]. Specifically, conversion in FeF2 cathode involves the transport of both Fe2+ and Li+ ions within the F- array and leads to the formation of nanosized Fe along specific crystallographic orientations of FeF2, as shown in Figure 3. During the whole process, the retained F-anion framework creates a checkerboard-like structure, which can compensate the large volume change and thereby enable high cyclability in FeF2.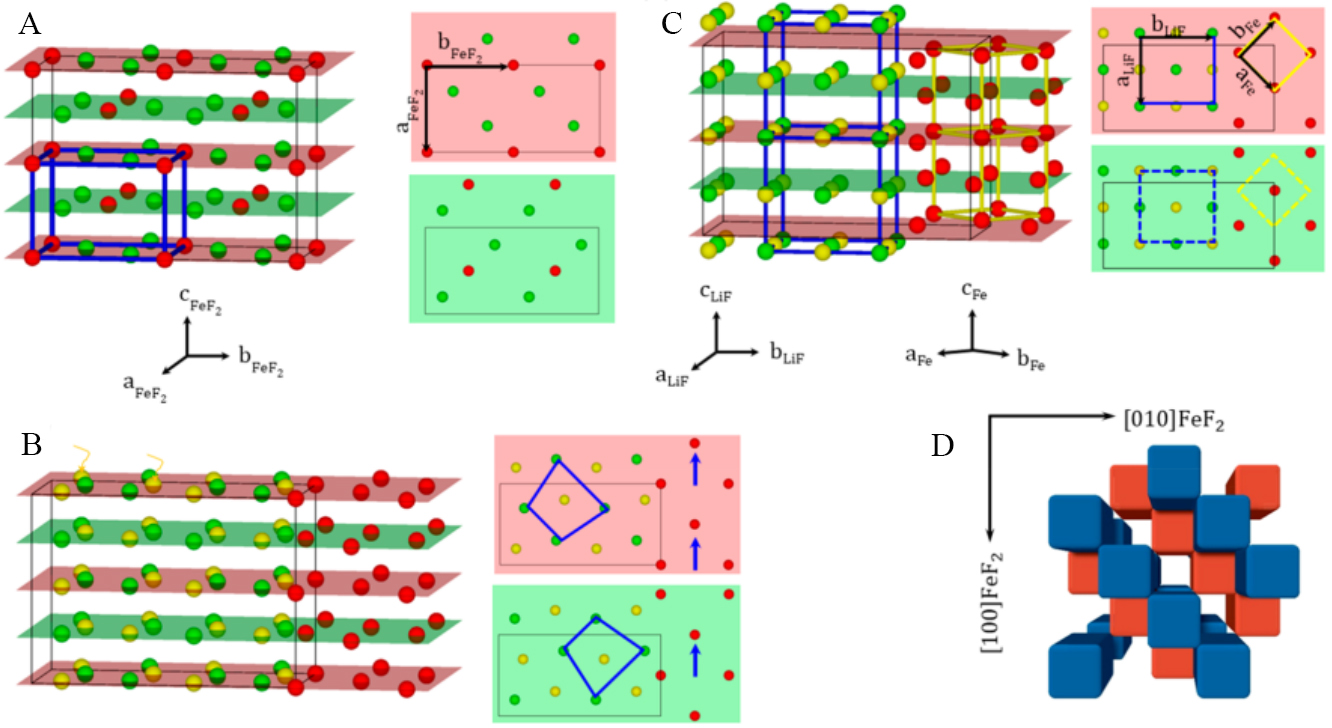 Figure 3. (A) Schematic illustration of structure of FeF2 with Fe (red) and F (green). In the 3D view (left), the unit cell is outlined by thick blue lines. The thin black lines outline a 1 × 2 × 2 supercell. Alternative arrangement of Fe-F along the [001] direction in the unit cell is shown in the red and green planes. (B) Li (yellow) insertion along the [001] direction. (C) Expansion/contraction of Fe/LiF along different directions. (D) Perspective view of checkerboard arrangement of the converted Fe domains along the [001] FeF2 direction. Reproduced from Ref.[9] with permission. Copyright 2018 American Chemical Society.
Xiao et al. prepared single-crystalline, monodisperse FeF2 nanorods through colloidal synthesis[8]. The nanorods presented near a theoretical capacity of 570 mA h g-1 and good cycling stability, solely through the use of an ionic liquid electrolyte (1 M LiFSI/Pyr1,3FSI). In this work, the conversion mechanism detailed reveals that the discharge and charge reactions are controlled by different mechanisms. As shown in Figure 4, the charge process is an interface-controlled reaction with the slow diffusion of Fe2+ through a rock-salt lattice. This is one of the main causes of inherently sluggish of voltage. In contrast, the discharge process is a diffusion-controlled reaction with the fast diffusion of Fe0 through open channels. The study suggests that voltage hysteresis is primarily a result of the reaction overpotential because the charge and discharge pathways are spatially and chemically symmetric. Based on the above results, we can mitigate the reaction hysteresis potentially through materials design. For example, a conductive bridge for electron transport can be made by doping or structural control to provide an enormous interface among nanosized products for the reversible conversion reaction. Regardless of the theoretical significant features of metal fluoride materials, many challenges still need to be resolved before these materials can achieve their desired performance characteristics. These challenges include low ionic and electron conductivities, voltage hysteresis, and unfavorable side reactions between active materials and electrolytes, all of which may lead to poor electrochemical performance and low Coulombic efficiency and energy efficiency.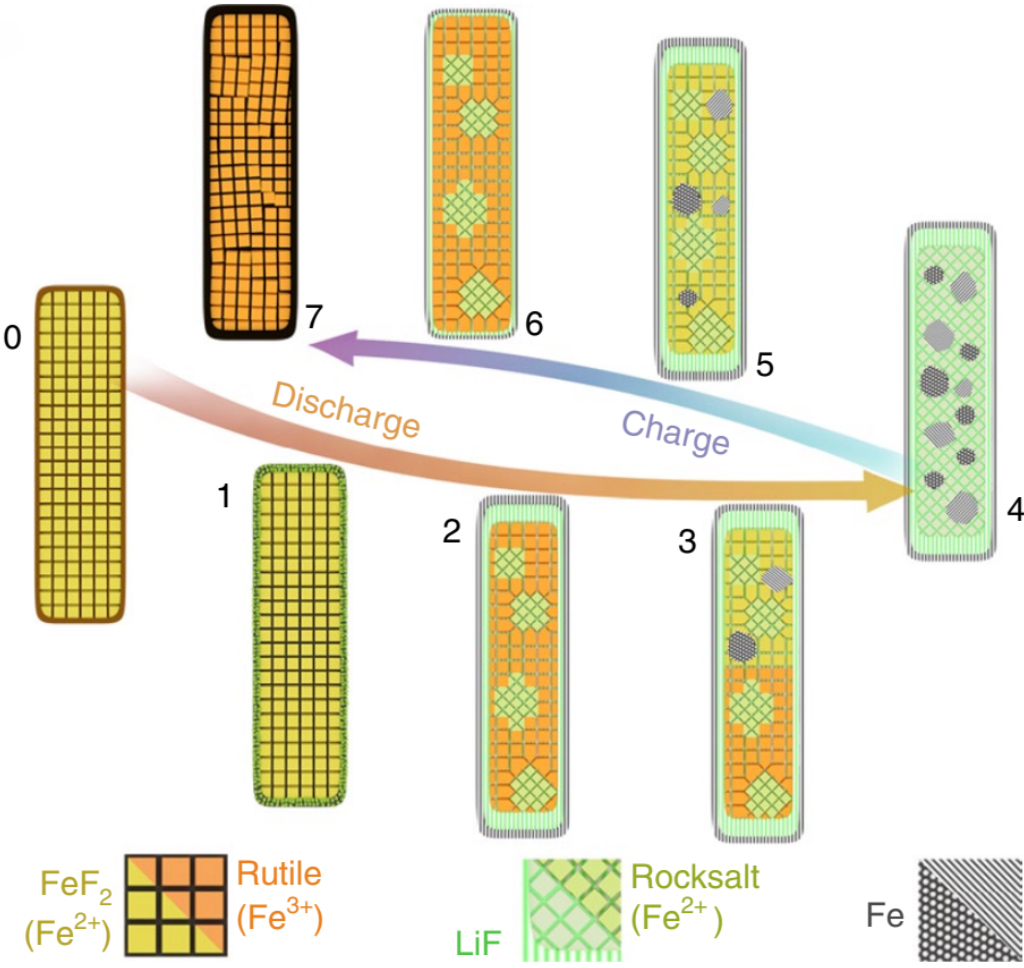 Figure 4. Schematic illustration of full discharge-charge mechanism for FeF2 electrode. (1) Forming disordered Fe and LiF at the surface. (2) Forming trirutile and rocksalt phases throughout the interior accompanied by formation of Fe and LiF particles with double-layered shell. (3) The shell limits the propagation of the reaction to the [001], creating a boundary between the converted (iron containing) and unconverted regions. (4) Fully discharged state with Fe nanoparticles nucleated on the fluoride matrix. (5) Charging proceeds with the consumption of these Fe nanoparticles. (6) This is followed by the reconversion of the double-layered shell and the re-formation of a pseudo-single-crystalline rutile nanorod. Reproduced from Ref.[8] with permission. Copyright 2021 Springer Nature.
LIMITATIONS OF CONVERSION MATERIALS AND STRATEGIES TO OVERCOME THEM
SYNTHESIS OF METAL FLUORIDES
The reported results show excellent potential for improving the battery performance of metal fluoride cathodes by optimizing the composition and architecture of the cathode. However, in order to control the size features and morphology of the conversion-type cathode materials, novel synthesis technologies should be further developed to optimize the performance of cathode chemistries to the level of commercial applications. Metal fluoride electrodes have been prepared via different chemical and physical methods. The electrochemical performance of the metal fluoride cathode materials has shown significant improvements based on the specific synthesis method involved in forming nanoscale architectures. The low ionic and electronic conductivities of the metal fluorides can be improved either with homogenous mixing with a highly conductive material or by reducing the particle size. Because nanoparticles can shorten the Li-ion diffusion time and provide a high surface area for contact with the electrolytes. Furthermore, nanostructured electrode materials have the ability to resist/hinder stress and strain from volume changes. The specific nanoscale morphology has proven to have an enormous impact on the specific capacity and cyclic stability of the electrode materials. In this section, the strategies employed to synthesize electrode materials are introduced, including hydrothermal, solvothermal, microwave synthesis, vapor-solid, ion synthesis and sol-gel methods.
CURRENT CHALLENGES AND FUTURE OPPORTUNITIES
Metal fluorides have been used as electrode materials and offer significant advantages to rechargeable Li batteries with improved safety and low costs. Metal fluoride cathode materials give up to a 50% higher volumetric energy density and double the cell-level specific energy compared to other intercalation cathodes. However, the industrial application of metal fluoride conversion cathode materials is still limited due to several scientific challenges. These limitations include irreversible structural changes, volume change during cycling, active material dissolution, unfavorable interactions with electrolytes, large voltage hysteresis, and low electronic conductivity.
Some disadvantages of metal fluoride electrodes make them incongruous for practical energy storage devices. Firstly, in LIBs, the LiF produced during conversion reactions is highly insulated, which causes many problems during cycling, such as large voltage hysteresis and low electronic conductivity. Secondly, the volume changes during lithiation/delithiation can induce obvious decomposition of the SEI film. There have been several approaches to mitigate the challenges of metal fluoride electrode materials and make them promising choices for energy storage devices.
The conversion reactions of metal fluorides typically involve the breaking of bonds with transition metals, highly insulated products (e.g., LiF), and complicated reaction pathways. These features are responsible for cycling problems and voltage hysteresis. Although some reports have provided insight into such problems, more detailed insights are expected from advanced characterization and simulation tools. It is difficult to obtain deeper information from routine tools (such as TEM, SEM and XRD) due to the poorly crystallized conversion products. Therefore, advanced tools, such as PDF, NMR, EELS, TXM, and XAS, should be explored for studying conversion processes, which are sensitive to light elements and the finer microstructural details of the local structure.
The SEI is always an important but often neglected factor for the battery performance with metal fluoride cathodes. The SEI layer can become thicker during cycling, which causes the loss of active species and larger Fe interparticle distances, resulting in the capacity fade of the electrode. The growth of SEI layers is not desired for batteries as it can retard ionic and electronic transport. Artificial SEI layers (e.g., surface coatings) and optimizing the composition of the electrolyte, such as using a high concentration LiTFSI salt, may be efficient methods to solve these problems faced by the in situ formation of a protection layer at the electrode surface. In any case, SEI issues should be given more attention to obtaining good cycling stability.
One of the greatest challenges for metal fluorides is to improve their conversion energy efficiency by reducing the reaction overpotential. The energy density of FeF3 is up to 1341.7 and 1899.13 Wh kg-1 during discharge and charge at 100 mA g-1, respectively[146]. The conversion energy efficiency is only 70.7%, which is lower than the values for transition metal oxides (95.8% for NMC and 93.9% for LiFePO4), as shown in Figure 16. To solve this problem, more focus should be devoted to the design of external wiring networks and the topological structure in future research. The surface defect chemistry (metastable or framework phases) of metal fluorides should also be considered to further optimize the spatial distribution of pristine phases, conversion products, and conductive network components in electrodes. One of the key tools is the defect chemistry of the involved phases including stoichiometric variations and doping. A promising method of improving the kinetics would use liquid-solid conversion mechanisms instead of the solid-solid conversion path. Therefore, it is worth studying conversion reactions involving Fe and LiBF4 rather than LiF or considering boron-based additives as F- receptors to dissociate LiF. Exploring electrolytes additives, separators and binders are also necessary for metal fluoride materials to suppress cathode dissolution effects and anode dendrite growth in the future.
Figure 16. Energy efficiency and density of (A) FeF3, (B) LiFePO4 and (C) transition metal oxide (NMC) based on their discharge-charge curves. Reproduced from Ref.[146] with permission. Copyright 2018 The Author(s).
In summary, the strategies for enhancing fluoride cathodes include: (1) the optimization of nanostructures for the formation of new desirable material, which will minimize the paths for Li ion diffusion and result in high electrochemical performance. An appropriate synthesis method could have a vital role in synthesizing desired nanoscale structures to obtain an advanced architecture of active metal fluoride materials; (2) achieving faster mass charge transport by building block and defect chemical variation in structures and (3) development or optimization of the electrolytes involved and the formation of advanced cell component solutions. It is obvious that to advance these electrode materials and make them ideal, numerous approaches have been employed to enhance the electrochemical performance, but significant improvements are still required for the practical applications of metal fluoride electrode materials.
DECLARATIONS
Authors' contributions
Preparing the manuscript draft, writing-review, editing, funding acquisition: Ma D
Writing-review: Zhang R, Chen Y
Collecting literature: Xiao C, He F, Zhang S, Chen J
Funding acquisition, supervision: Hu X, Hu G
Availability of data and materials
Not applicable.
Financial support and sponsorship
This work was supported by the projects from National Natural Science Foundation of China (51802114, 21503008 and U2002213), Shandong Provincial Natural Science Foundation, China (ZR2019BF027). the Double Tops Joint Fund of the Yunnan Science and Technology Bureau and Yunnan University (2019FY003025), and Double First-Class University Plan (C176220100042). Key Discipline of Materials Science and Engineering, Chizhou University (czxyylxk03). Anhui Province materials and chemical industry first-class undergraduate talents demonstration leading base (2020rcsfjd28).
Conflicts of interest
All authors declared that there are no conflicts of interest.
Ethical approval and consent to participate
Not applicable.
Consent for publication
Not applicable.
Copyright
© The Author(s) 2022.
Cite This Article
OAE Style
Ma D, Zhang R, Hu X, Chen Y, Xiao C, He F, Zhang S, Chen J, Hu G. Insights into the electrochemical performance of metal fluoride cathodes for lithium batteries. Energy Mater 2022;2:200027. http://dx.doi.org/10.20517/energymater.2022.23
AMA Style
Ma D, Zhang R, Hu X, Chen Y, Xiao C, He F, Zhang S, Chen J, Hu G. Insights into the electrochemical performance of metal fluoride cathodes for lithium batteries. Energy Materials. 2022; 2(4):200027. http://dx.doi.org/10.20517/energymater.2022.23
Chicago/Turabian Style
Ma, Delong, Ruili Zhang, Xun Hu, Yang Chen, Chenfa Xiao, Fei He, Shu Zhang, Jianbing Chen, Guangzhi Hu. 2022. "Insights into the electrochemical performance of metal fluoride cathodes for lithium batteries" Energy Materials. 2, no.4: 200027. http://dx.doi.org/10.20517/energymater.2022.23
ACS Style
Ma, D.; Zhang R.; Hu X.; Chen Y.; Xiao C.; He F.; Zhang S.; Chen J.; Hu G. Insights into the electrochemical performance of metal fluoride cathodes for lithium batteries. Energy Mater. 2022, 2, 200027. http://dx.doi.org/10.20517/energymater.2022.23