As powerful energy storage systems, LIBs can be classified as Li-sulfur batteries, Li-air batteries, organic electrode batteries, solid-state batteries or Li-CO2 batteries[81]. Although LIB techniques have been widely studied, the safety issues induced by liquid-based electrolytes have still not been well addressed. LIBs composed of organic solution electrolytes are prone to leakage and combustion, leading to a series of environmental problems. The development of all-solid-state batteries could be an alternative strategy to avoid these drawbacks, in addition to improved mechanical strength, chemical stability and conductivity (10-4 to 10-3 S/cm)[82]. The LIB materials transforming into proton conductors mean that their electrochemical properties (e.g., lithium-ion conductivity) have attracted more attention. LIB materials play different roles in all-solid-state batteries, including the cathode, anode and electrolyte. Typical LIB materials are introduced by their roles, which provide a reference for the application of CFCs.
Typical LIB electrolyte materials
The solid-state electrolyte is a critical component to block electron leakage while transporting lithium ions, which is similar to the electrolytes in CFCs. Li7La3Zr2O12 (LLZO) is one of the most widely investigated solid electrolytes with a garnet-type structure. The ionic conductivities of the cubic and tetragonal phases of LLZO are 10-4 and 10-6 S/cm, respectively[83]. However, LLZO cannot retain a stable crystal structure in air, which is mainly due to the reaction of LLZO with CO2 in air to produce a Li2CO3 passivation layer. The formation of passivation layers reduces ionic conductivity and increases interfacial resistance. Furthermore, NASICONs (sodium super ion conductors), such as LiZr2(PO4)3, LiGe2(PO4)3 and Li1.5Al0.5Ti1.5PO4, have an analogous crystalline structure with the space group of R-3C. For Li1.5Al0.5Ti1.5PO4, the PO4 tetrahedra alternate and corner share with [TiO6] octahedra, where the Li species occupy interstitial sites[84]. In addition, Li-S batteries have attracted significant interest due to their high theoretical energy density and gravimetric capacity[14]. Furthermore, widely-used sulfide (Li2S-SiS2 and Li2S-P2S5) and perovskite (LiLaTiO3) materials have shown higher conductivity (10-2 S/cm), lower grain boundary resistance and excellent flexibility[33]. In 1979, a Li salt complexed with a solid polymer electrolyte (SPE) was used in the first all-solid-state film battery. The SPE usually consists of a polymer matrix and lithium salts[85]. The all-solid-state polymer electrolyte and quasi-solid-state polymer electrolyte are attractive candidates for Li-S cells with excellent flexibility and mechanical stability[86]. With the continuous development of this field, polymer electrolyte materials with different kinds of transporting ions (e.g., H+, Li+, Na+, K+ and Ag+) have been explored extensively in academia and industry. SPEs have also shown significant potential for a variety of solid-state power sources, such as secondary batteries, fuel cells and supercapacitors[87]. The special structures of LIB electrolytes with different ion transport mechanisms make it possible for their practical use in CFCs. Good Li-ion conductivity of the materials is an ideal property for CFCs.
Typical LIB electrode materials
In LIBs, the basis of the power supply comes from the Li-ion shuttle between the electrode materials; thus, the electrode performance can be evaluated by the Li-ion insertion ability. The electrode material can be divided into three types: intercalation; conversion; alloying[88].
Intercalation-type electrode materials mainly provide intercalation and deintercalation sites for Li+ in the lattice, which is usually dominated by layered structure materials, with the most representative materials including LiNiO2 and LiCoO2[89]. The layered structure facilitates the diffusion and insertion of Li ions, accelerating the battery charging speed. LiCoO2 as the most famous electrode material was invented by Goodenough and coworkers in the 1980s, which led to a significant increase in the battery voltage (4 V) compared with previous ones (< 2.5 V)[23]. Subsequently, LiMn2O4, as another famous three-dimensional spinel-structured electrode material, achieved a reduced cost. The crystal structure of LiMn2O4 is similar to LiCoO2 and possesses a cubic close-packed oxygen lattice with edge-sharing octahedra, as well as excellent Li+ and electronic conductivities[90]. Generally, the transition metal elements in layered materials can induce a change in the valence states (e.g., Ni3+ to Ni2+ in LiNiO2) during the processes of Li+ intercalation and deintercalation, leading to disordered cation sites in the crystal. Studies have shown that the disorder can disrupt the transport path of lithium ions and with the effect of the electrostatic repulsion between transition metal elements, the Li mobility can be significantly reduced. Simultaneously, the Li slab space can also be reduced due to the disorder effect, resulting in a high activation barrier to Li-ion diffusion[91]. To address these challenges, the doping of polymetallic elements was developed to stabilize the crystal structure, and thus the disadvantage of single doping can be avoided with additional advantages, e.g., enhanced electrical properties. Recently, LiNixCoyMn1-x-yO2 (NCM)[92] and LiNixCoyAl1-x-yO2 (NCA) have attracted significant attention as new-generation LIB electrodes because of their higher specific capacity and energy density[93]. For example, the optimized composition of LiNi0.8Co0.15Al0.05O2 has been used in Tesla's electric vehicles with improved cost-effectiveness. The addition of low-cost transition metals (e.g., Ni2+ and Al3+) not only increased its specific capacity, but also solved the safety issue related to the O2 evolution from the material. Additionally, NMC with the same crystal structure has been commercialized for the electronics to electric vehicles applications due to its high volumetric and gravimetric capacity, high nominal voltage and low self-discharge[94].
There are numerous transition metal oxides, nitrogen compounds, sulfides and phosphides that can be classified as the conversion-type anodes. In conversion-type materials, the structural change induced by chemical interactions is usually irreversible due to the conversion reaction between Li+ and the corresponding element without the provision of intercalation sites, but offers a large area for rapid diffusion of Li+ at the surface of the anode and electrolyte[95]. Simultaneously, the charge transport motion mechanics can be enhanced by the exposed active surface. Several newly-developed anodes containing large polyanions (XO4)y- (X = S, P, Si, As, Mo or W) can promote the ORR and stabilize the lattice structure. However, polyanion-containing anodes still have shortcomings, such as poor electronic conductivity compared with intercalation-type ones[96]. Furthermore, Li+ diffuses in one dimension, resulting in lower lithium-ion conductivity in LiFePO4. Recently, surface decoration with carbon materials has been identified as an effective strategy to improve the conductivity of LiFePO4. LiFePO4 has promoted the development of other anionic materials in lithium-/sodium-ion batteries, such as LiMnPO4, Na2FePO4F, Na3V2(PO4)2F3 and Li2MSiO4 (M = Mn, Fe, Co or Ni)[97]. Compared with the less stable high-valent redox couples (Co3+/4+ and Ni3+/4+), the low-valent redox couples (Fe2+/3+) are more stable. The stronger bonding from large polyanions can inhibit oxygen release from the lattice and enhance the thermal stability.
The third type of LIB electrode material is alloys, where lithium always reacts with the IVA, VA groups of alloys, including Si, Ge, Sn, Pb, P, As, Sb and Bi. In addition, Sn-Si hybrid materials have shown both high specific capacity and good cycle stability for potential applications in electric vehicles[98]. Ni- and Co-based oxynitrides can be readily prepared as stable and dendrite-free lithium anodes, which keep the battery safe and maintain a high specific energy. A nitride of Li3N can be in-situ formed by NiCoON, which can enhance the electronic and ionic conductivity for the kinetic induction of the homogeneous deposition of Li[99]. In fact, multi-element doping is beneficial to increasing the ion conductivity and enhances the catalysis in CFCs. The solid electrolyte interphase (SEI) plays an important role in the long-term durability of the battery, by which the electrolyte component can be readily protected from decomposition by forming solid products at the interface (i.e., a passivation layer). However, the complex reduction pathways of multiple components in the electrolyte can form random SEIs and unstable SEIs can bring continuous cracking and reconstruction[100]. Some reports showed that the formation of the SEI layer is highly related to the inorganic components (MF and M2CO3, M = Li, Na or K) and the MF has a critical function in improving the interfacial stability. Therefore, constructing stable SEI films on the electrode surface to achieve a stabilized microstructure deserves more attention[101]. In addition, organic electrode materials are becoming more popular because of their advantages of low cost, safety, environmental friendliness, design diversity and low-temperature applications[102]. Modulating lithiophilicity at the electrode/electrolyte interface can improve the interfacial Li mobility, where in-situ formed polymers in contact with the anode are highly flexible[103]. In addition, the next generation of LIB electrodes has been developed, as shown in Figure 11[104], and the more competitive LIB materials with excellent properties are listed in Table 2.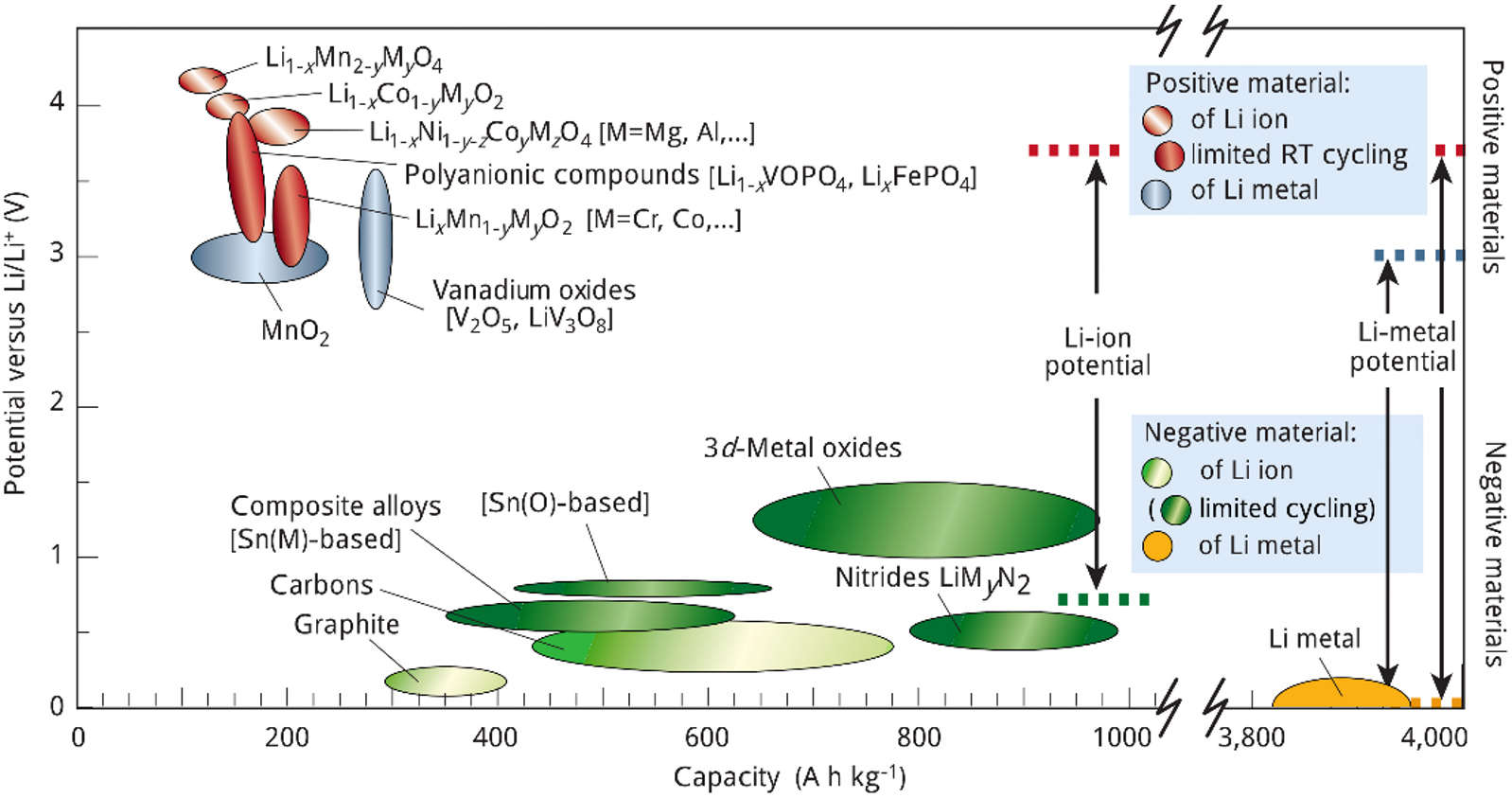 Figure 11. Voltage versus capacity for electrode materials presently used in LIBs. Copyright from Ref.[104]. LIBs: Lithium-ion batteries.
Table 2
Commonly used lithium electrode/electrolyte materials (the conductivity for the electrolytes is ionic conductivity and for the electrodes is electronic conductivity)
Application
Structure
Material
Properties of lithium material
Ref.
Electrolyte
Garnet
Li7La3Zr2O12
Ionic conductivity of 10-4 S/cm
[83]
Li5La3M2O12 (M = Nb, Ta)
Ionic conductivity of 10-6 S/cm
[105]
Li6.5La3Zr1.5Ta0.5O12
Ionic conductivity of 1.27 × 10-3 S/cm
[106]
NASICON
Li1.5Al0.5Ti1.5PO4
Ionic conductivity of 7 × 10-4 S/cm
[84]
Perovskite
LiLaTiO3
Ionic conductivity of 10-2 S/cm
[33]
LISICON
Li14ZnGe4O16
Ionic conductivity of 10-7 S/cm
[107]
Electrode
Layered
LiNiO2
Theoretical specific capacity of 275 mAh/g
[108]
LiCoO2
Ionic conductivity of 10-3 S/cm
[109]
LiNi0.8Co0.15Al0.05O2
Initial discharge capacity of 201.2 mAh/g
[110]
LiNixMnyCo1-x-yO2
Specific capacity 122.21 mA h/g
[111]
Olivine
LiFePO4
Ionic conductivity of 5 × 10-8 S/cm
[112]
LiMnPO4
Specific capacity 168 mAh/g
[113]
Spinel
LiMn2O4
Ionic conductivity of 1.81 × 10-4 S/cm
[114]
Tavorite
LiFeSO4F
Ionic conductivity of 1.65 × 10-4 S/cm
[15]
It is noteworthy that the special structure of a LIB material as an electrode forms the transport pathway of Li+ and the improved interface between the electrode and electrolyte can promote the diffusion of Li+. These mechanisms are particularly relevant and can be crosslinked to CFCs. Based on the good electrochemical properties of LIB materials, some of them have been successfully used in fuel cells and played better roles at lower operating temperatures.