Synthesis and characterization of ILs and iongels
In this work, four fluorinated ILs, as alternatives to the commercially available DEME-TFSI IL, were designed to optimize Li-O2 cell performance [Figure 1]. The [TFSI]- anion of DEME-TFSI was replaced by different anions, namely, bis(fluorosulfonyl)imide [FSI]-, bis(perfluoroethylsulfonyl)imide [BETI]- and nonafluoro-1-butanesulfonate [C3F9SO3]-. The objective was to modify and increase the fluorinated moieties in the resultant IL and the ionicity of the different ILs with respect to DEME-TFSI. The cation of the DEME-TFSI IL, [DEME]+, was redesigned to incorporate a fluorinated pendant group while maintaining most of its chemical structure (obtaining N,N-diethyl-N-methyl-N-((trifluoroethoxy) ethyl) ammonium, FD), following previous works[17]. The IL using this [FD]+ cation was labeled as FD-TFSI, which was obtained commercially.
The [DEME]+-based ILs with different anions were synthesized by a typical salt metathesis reaction [Scheme 1][17,27,28]. An anion exchange reaction was carried out between a [Br]- anion (from N,N-diethyl-N-methyl-N-(2-methoxyethyl)ammonium bromide, [DEME][Br]) and the negative ion of a commercially available monovalent salt (e.g., X+Y-, where X+ = Na+, Li+ or K+ and Y- = [TFSI]-, [BETI]- or [C3F9SO3]-). They were characterized by 1H, 13C and 19F NMR, as described in the Supplementary Figure 1, as well as by attenuated total reflection Fourier transform infrared (FTIR) spectroscopy [Supplementary Figure 2]. DEME-TFSI was also synthesized and compared to a commercial version of this IL to prove the viability of the synthesis method [Supplementary Figure 2A]. DEME-Br presented one broadband in the FTIR spectrum at 3450 and 1630 cm-1 corresponding to water and O-H bending[29], respectively, which disappeared in the DEME-TFSI spectrum. The bands between 3000 and 2800 cm-1 were assigned to the stretching vibrations of the C-H bonds of the alkyl chain of the DEME+ cation[30]. The characteristic bands of the fluorinated TFSI- anion appeared in the DEME-TFSI spectrum at 651, 741 and 762 cm-1 (attributed to S-N-S symmetric and asymmetric stretching, respectively), 1134 and 1346 cm-1 (-SO2 asymmetric stretching), 1058 and 790 cm-1 (-C-S- stretching) and 1165 cm-1 (C-F3 asymmetric stretching)[30]. Similar bands were observed for DEME-BETI. In contrast, DEME-FSI presented the characteristic bands of the [FSI]- anion at 1218 and 1365-1383 cm-1 (attributed to -SO2 symmetric and asymmetric stretching, respectively), 572 cm-1 (δip (O2S-N-SO2) + ν(S-F) + δip(SO2-F)) and 454-482 cm-1 (δsci (SO-F) + δ (OS-N-SO-) and δsci (SO-F) + δop (O2S-F), respectively)[30]. DEME-C3F9SO3 presented the characteristic bands of the [C3F9SO3]- anion at 638, 1225 and 518, 1261, 1281 cm-1 (attributed to -SO3 symmetric and asymmetric stretching, respectively) and 755 cm-1 (C-F3 symmetric stretching)[30].
These ILs were further analyzed via differential scanning calorimetry. As shown in Supplementary Figure 3A-C, DEME-BETI and DEME-C3F9SO3 presented small endothermic peaks at -40.5 and -22.1 °C, respectively. The DEME-FSI and DEME-TFSI thermograms were flat, suggesting that their melting temperatures are probably below -80 °C, outside the equipment range or nonexistent. Literature works claim only Tg transitions at -94.2 and -111.4 °C for DEME-TFSI and DEME-FSI, respectively[31]. Hence, all the ILs are liquid at room temperature, which is a desirable property from a practical battery perspective.
Regarding the diffusion properties, the mobility of the ions within an electrolyte is directly proportional, amongst other properties, to the viscosity of the system[32]. Thus, the dynamic viscosity of these ILs was measured at 25 and 60 °C [Supplementary Figure 3D]. As expected, the viscosity decreased with temperature (e.g., up to four times lower at 60 °C for DEME-C3F9SO3) and the DEME-FSI IL possessed the lowest values of 71.1 and 26.6 mPa·s at 25 and 60 °C, respectively. The viscosity of an IL is usually determined by its hydrogen and/or van der Waals forces and is usually affected by the ion size, branching and/or functional groups[8]. The additional fluorinated moieties of DEME-BETI, DEME-C3F9SO3 and FD-TFSI increased the ion sizes, leading to an increase in viscosity. Interestingly, DEME-BETI and FD-TFSI had similar F/O ratio (~2), but the viscosity of DEME-BETI at room temperature was double (319 compared to 144 mPa·s, respectively), suggesting that FD-TFSI has ions with weaker interaction forces, leading to smaller energies being required for molecular motion.
Scheme 1 shows the simple UV-photopolymerisation method followed to obtain iongels with very high liquid electrolyte contents (up to 90 wt.%)[16]. Poly(ethylene glycol) dimethacrylate (PEGDM) was directly mixed with the ionic liquid electrolyte (ILE) in the presence of a radical photoinitiator (2-hydroxy-2-methylpropiophene). After UV irradiation for < 2 min on the drop-cast solution, self-standing and transparent membranes were obtained. In all cases, the LiTFSI salt was dissolved in the ILs to form the ILEs, which were labeled as Iongel-xx*, where xx is the anion of the IL selected and * corresponds to the use of LiTFSI as the salt (e.g., Iongel-FSI*, where DEME-FSI and LiTFSI were used as the ILE) [Table 1, Supplementary Table 1]. In addition to LiTFSI, other salts, such as lithium bis(fluorosulfonyl)imide (LiFSI), lithium bis(perfluoroethylsulfonyl)imide (LiBETI) and lithium nonafluoro-1-butanesulfonate (LiC3F9SO3), were also used, as shown in Table 1. In all cases, the degree of crosslinking was monitored via FTIR spectroscopy and conversions of ≥ 94% were reached [Supplementary Figure 4]. The monomer conversion was examined through the C=C stretching vibration of the acrylic groups (1640-1635 cm-1), which significantly decreased/disappeared after UV irradiation[33].
Table 1
Iongel electrolyte compositions containing 90 wt.% liquid electrolyte and 10 wt.% PEGDM crosslinker
Sample
Liquid electrolyte[a]
IL
Salt
Iongel-FSI*
DEME-FSI
LiTFSI in all cases
Iongel-TFSI* or
Iongel-TFSI
DEME-TFSI
Iongel-FD* or
Iongel-FD
FD-TFSI
Iongel-BETI*
DEME-BETI
Iongel-CFSO*
DEME-C3F9SO3
Iongel-FSI
DEME-FSI
LiFSI
Iongel-BETI
DEME-BETI
LiBETI
Iongel-CFSO
DEME-C3F9SO3
LiC3F9SO3
The thermal and mechanical stability of the iongels was evaluated via thermal gravimetrical analysis (TGA) and dynamic mechanical thermal analysis (DMTA). From a thermal perspective [Figure 2A], all membranes using the LiTFSI salt (except for Iongel-FSI*) behaved very similarly and did not present any thermal degradation until ~310-330 °C. This remarkably high thermal stability was directly attributed to the intrinsic properties of the ILs (e.g., a decomposition temperature of ~325 °C for DEME-TFSI and low volatility)[17]. From this temperature, a one-step degradation occurred for all the iongels analyzed. The thermogram of Iongel-FSI* showed an earlier thermal decomposition than the other membranes. This was attributed to the lower stability of the FSI- anion compared to the TFSI- anion[31]. In summary, all iongel membranes are very stable from a thermal perspective, well above typical lithium battery operating conditions (< 100 °C)[34].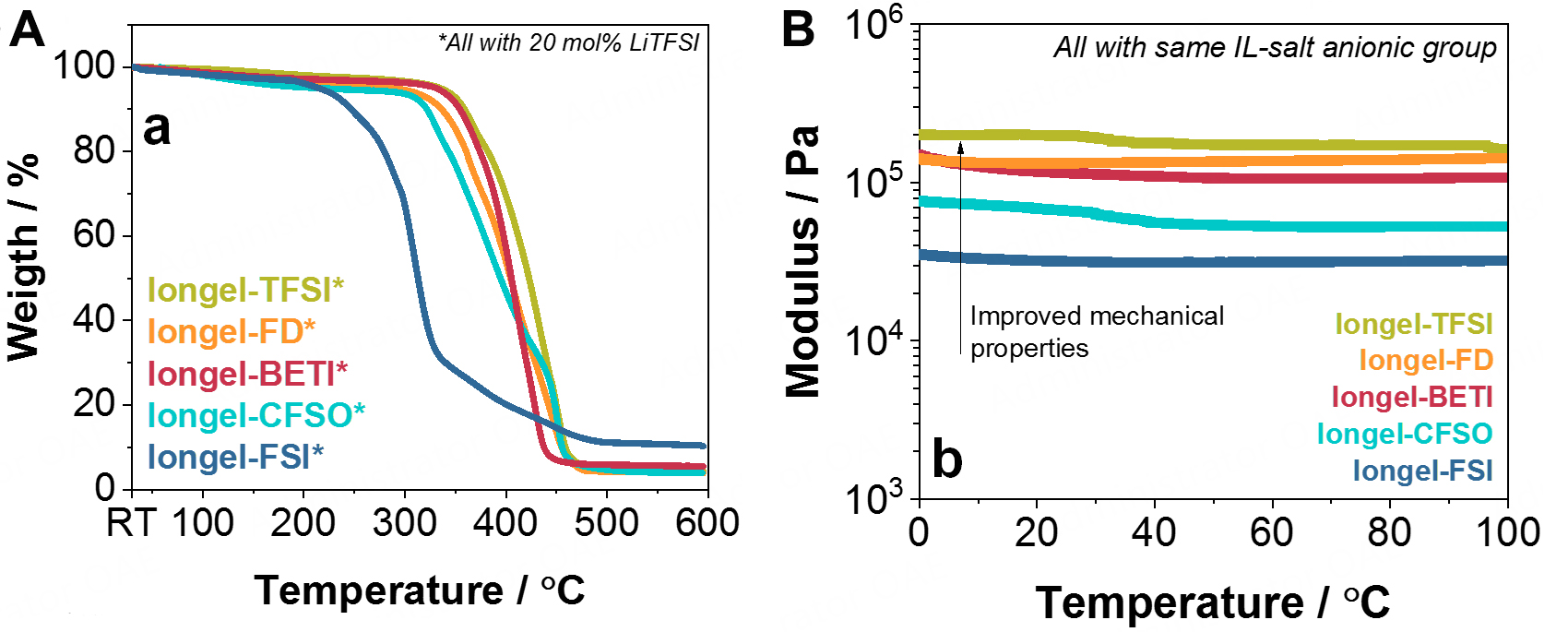 Figure 2. (A) TGA thermograms from room temperature to 600 °C of the iongel membranes and (B) DMTA at compression from 0 to 100 °C of iongel membranes containing 20 mol.% of a lithium salt with the same anion as the ILE. TGA: Thermal gravimetrical analysis; DMTA: dynamic mechanical thermal analysis; ILE: ionic liquid electrolyte.
From a mechanical perspective, the iongels containing the LiTFSI salt were first evaluated [Supplementary Figure 5A]. Overall, the membranes kept their modulus between 104 and 105 Pa at different temperatures (from 0 to 100 °C), illustrating their mechanical stability at high temperatures. Interestingly, the iongels containing the same anionic group in the salt and IL showed a higher modulus (i.e., ~105 Pa for Iongel-TFSI* and Iongel-FD*, both containing TFSI- anions). Subsequently, Iongel-FSI*, Iongel-BETI* and Iongel-CFSO* were reformulated by adding LiFSI, LiBETI and LiC3F9SO3 salts, respectively, at a 20 mol.% concentration and tested [Figure 2B]. The results showed an improvement from 2 × 104 to 4 × 104 Pa for Iongel-FSI, from 4 × 104 to 105 Pa for Iongel-BETI and from 4 × 104 to 6 × 104 Pa for Iongel-CFSO. Furthermore, iongels containing the fluorinated cation (FD-TFSI) at lower ILE contents in the iongel formulation were also assessed [Supplementary Figure 5B]. The results showed that, as expected, larger contents of polymer in the iongel formulation led to a higher modulus. In contrast, according to the Tan δ derivative, the iongels with a smaller anion presented a lower Tg transition, thereby positively enhancing Li+ transport[35]. Hence, the ranking in terms of Tg was Iongel-FD (-54.1 °C) < Iongel-FSI (-49.7 °C) < Iongel-TFSI (-43.2 °C) < Iongel-CFSO (-41 °C) < Iongel-BETI (-26.5 °C). Overall, the low Tg of these iongels, together with their high thermal and mechanical stability, make these polymer electrolytes interesting materials for further investigation.
Next, the ionic conductivity (σ) of the iongels containing the LiTFSI salt was evaluated by electrochemical impedance spectroscopy (EIS) [Figure 3A]. Iongel-FD had the highest σ value (2.48 × 10-3 S·cm-1 at 25 °C), very close to its liquid counterpart (3.24 × 10-3 S·cm-1 at 25 °C, Figure 3C). Similar to the DMTA results, iongels containing the same anionic group in the salt and IL seemed to have higher conductivities. Consequently, the Iongel-FSI, Iongel-BETI and Iongel-CFSO membranes were further investigated [Figure 3B]. A significant improvement was found for the Iongel-CFSO and Iongel-FSI formulations, with the latter having the highest conductivity of the group (7.8 × 10-3 S·cm-1 at 25 °C). To the best of our knowledge, this value is one of the highest ionic conductivities reported in the literature for IL-based solid electrolytes. In the case of Iongel-BETI, the ionic conductivity was very similar in both cases (~1.2 × 10-3 S·cm-1 at 25 °C). Despite having higher chemical compatibility, the ionic conductivity might not have improved due to the potentially higher viscosity of this electrolyte (BETI- > TFSI- size). Overall, the order of the ionic conductivities was Iongel-FSI > Iongel-FD-TFSI > Iongel-BETI ~ Iongel-TFSI > Iongel-CFSO. The fluorinated moieties were targeted to increase oxygen solubility in the electrolyte, which has a beneficial effect on Li-O2 cells[17]. However, in addition, these groups are usually used to promote delocalization of the anionic charge due to their electron-withdrawing capacity, thereby improving Li+ mobility[36]. Hence, iongels containing a higher fluorine content showed higher ionic conductivity, except for the Iongel-CFSO class, possibly due to their much higher/lower viscosity. The same study was carried out for comparison using the ILEs containing LiTFSI or their analogous salts [Supplementary Figure 6A, Figure 3C]. It can be concluded that it is possible to achieve conductivities of the same order of magnitude as liquid electrolytes with iongel solid electrolytes.
Figure 3. Ionic conductivities obtained by EIS measurements at different temperatures of cells using (A) Iongel-XX* electrolytes containing 20 mol.% LiTFSI, (B) Iongel-XX electrolytes containing 20 mol.% of a lithium salt with the same anionic group as the ILE and (C) liquid electrolytes containing 20 mol.% of a lithium salt with the same anionic group as the ILE. (D) Ionic conductivities at 60 °C versus their lithium transference number. EIS: Electrochemical impedance spectroscopy; ILE: ionic liquid electrolyte.
Furthermore, a small study was carried out with Iongel-FD [Supplementary Figure 6B], in which increasing weight ratios of the ILE led to higher ionic conductivities. Due to these results, only cells with electrolytes (either iongel or liquid electrolytes) containing the same anionic group in the salt and IL were further evaluated. Furthermore, the ionic conductivities increased linearly with temperature and followed Arrhenius-type thermally activated behavior[37,38]:

where σois the pre-exponential factor, Ea is the activation energy and k is the Boltzmann constant. The effect of the selected anion on the ion transport mechanism was also evidenced in the trend observed for the activation energies [Supplementary Figure 6C]. Iongel-CFSO presented the highest value (0.35 eV), possibly due to its poor Li+ solvation ability and significant presence of electron-withdrawing groups (high F/O ratio of DEME-C3F9SO3 IL of 2.25) to the detriment of Li+ mobility coordinating groups (i.e., the sulfonyl functional group)[39]. This is in accordance with results found in the literature[40], in which it has been proved that Li+ is mainly coordinated by the oxygen atoms of the anions in ILs. This activation energy was significantly reduced for Iongel-FSI (0.18 eV). In this case, the F/O was the lowest of the group (0.4), having a dominant presence of Li+ coordinating structures favoring ion mobility. More interestingly, the results showed that, in all cases, the activation energy was lower in the iongel electrolytes than in the liquid electrolytes (e.g., 0.31 eV compared to 0.28 eV for Liquid-BETI and Iongel-BETI, respectively). It is possible that the low Tg of the iongels and the presence of ethylene oxide segments within the polymeric network might favor lower activation energies as they provide additional ion mobility pathways to the system (stable complexes of Li+ with the ether oxygens)[41].
The contribution of ionic conductivity exclusively resulting from Li+ was evaluated through the determination of the lithium transference number (tLi+), according to the well-known Evans-Vincent-Bruce method [Supplementary Figure 7]. The analysis of the iongel electrolytes [Figure 3D] revealed that tLi+ ranged between 0.10 and 0.25, in accordance with values found in the literature[8,39,42]. Iongel-BETI and Iongel-TFSI had the lowest values (~0.10). TFSI-based IL has been reported to form Li+ -[TFSI-]2 negative ion pairs, which does not favor ion mobility under an electric field, thus lowering the tLi+ of the electrolyte[39]. In contrast, the poorer Li+ solvation ability of DEME-C3F9SO3 might lead to a tLi+ discreet promotion, comparable to the Iongel-FSI value (~0.17). The Iongel-FD electrolyte had the highest tLi+ (0.25). Overall, the iongels developed in this work possess, to our knowledge, some of the highest ionic conductivity values found in the literature[8,43-45] and have suitable ion conductive properties for battery applications. Furthermore, it has been demonstrated that, through the designed ILs, it is possible to achieve superior ionic conductivities than the more studied [DEME][TFSI]-based electrolytes.
Symmetrical lithium cells
Symmetrical lithium cells containing the iongels were assembled within two lithium metal foils inside a glove box to determine their stability against lithium. Current densities were increased from 0.01 to 2 mA·cm-2 and cells were cycled three times for each current (1 h half-cycle). The average potential (absolute value) achieved at each current rate is plotted in Figure 4A. The results showed that the electrolytes with smaller anion sizes led to lower overpotentials, with cells having a critical current density (where EWE exceeds 1 V) of 0.5 mA·cm-2 for Iongel-TFSI (0.33 V) and an excellent 2 mA·cm-2 for Iongel-FSI (0.97 V). This trend was also found in equivalent cells based on liquid electrolytes [Supplementary Figure 8A] but with slightly lower overpotentials (e.g., 0.21 V for Liquid-TFSI at 0.5 mA·cm-2). At relatively lower and usually reported current rates (i.e., 0.1 mA·cm-2) in literature, the iongel cells exhibited a wide range of overpotentials with the order of Iongel-FSI (20 mV) < Iongel-TFSI (45 mV) < Iongel-FD (87 mV) < Iongel-BETI (0.41 V) < Iongel-CFSO (2.9 V). The same tendency was found in cells with liquid electrolytes, with overpotentials ranging from as low as 9 mV (Liquid-FSI), 50 mV (Liquid-TFSI) and 60 mV (Liquid-BETI).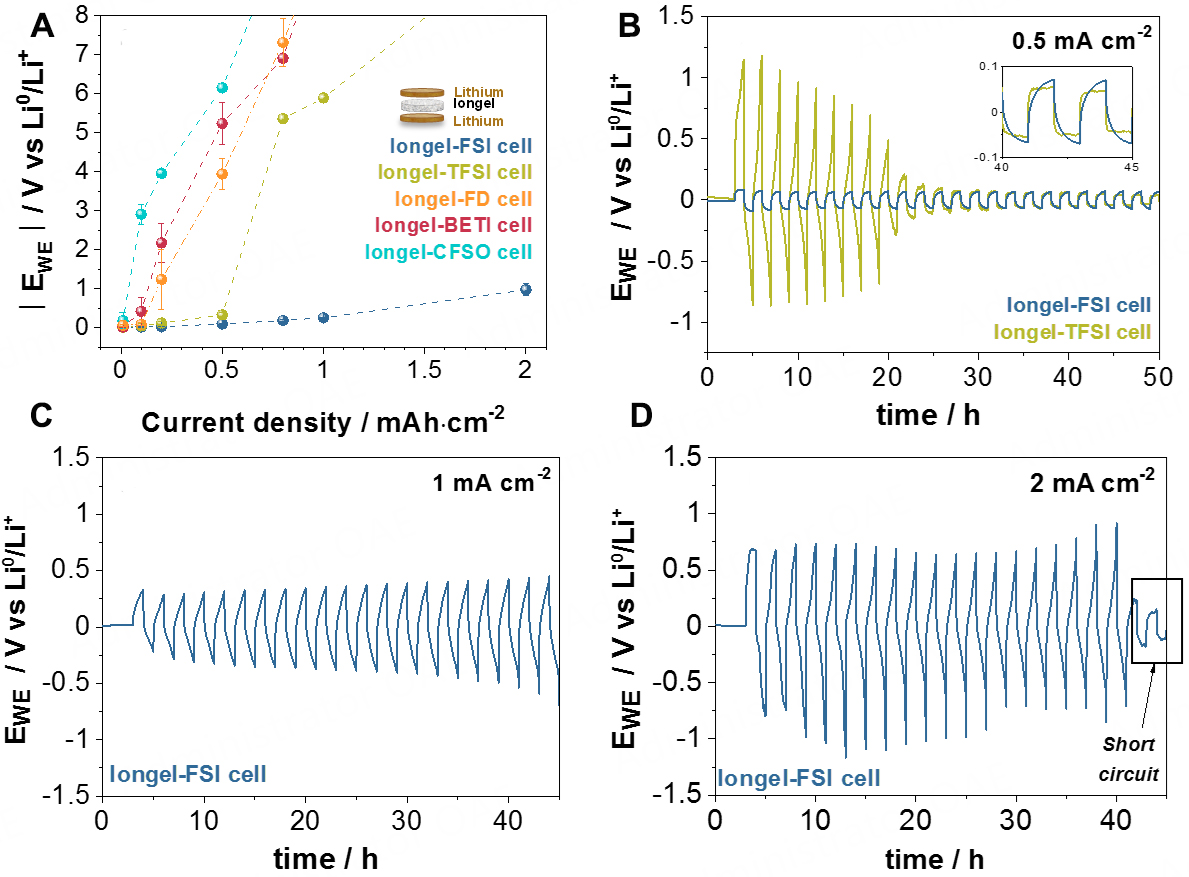 Figure 4. Galvanostatic tests on symmetrical lithium cells at 60 °C. (A) Average potentials achieved at each current density from 0.01 to 2 mA·cm-2. Each current cell was cycled three times with a 1 h break. Long galvanostatic cycling at (B) 0.5, (C) 1 and (D) 2 mA·cm-2.
Due to these promising results, symmetrical lithium cells with DEME-TFSI- and DEME-FSI-based electrolytes were further cycled (1 h platting and 1 h stripping) in galvanostatic mode at 0.5 mA·cm-2 [Figure 4B]. Cells with the Iongel-FSI electrolyte showed a polarization as low as 60 mV for 50 h, suggesting good compatibility between lithium metal and the iongel. On the opposite side, cells with the Iongel-TFSI electrolyte suffered from dendritic growth in a much earlier step, leading to a "soft" short circuit until the final hard-short circuit after 23 h[46]. The same trend was found in equivalent cells with liquid electrolytes [Supplementary Figure 8B]. Cells with the Liquid-TFSI electrolyte had lower overpotentials (0.17 V), but they increased rapidly after 14 h of cycling. Cells containing the Liquid-FSI electrolyte had a polarization as low as 41 mV for at least 100 h. Hence, in comparison with the Iongel-TFSI electrolytes, the Iongel-FSI membranes were able to potentially suppress dendritic growth more efficiently and cycling was further pushed to current densities of 1 mA·cm-2 [Figure 4C] and 2 mA·cm-2 [Figure 4D]. At 1 mA·cm-2, the cells showed overpotentials of < 0.40 V for 45 h, which increased smoothly with cycling. The stripping/plating profiles became sharper and less homogeneous under 2 mA·cm-2 (polarization ranging from 0.6 to 1.1 V) until the distinctive fingerprint of a short-circuited cell appeared after 41 h[47].
The outstanding performance of cells with FSI--based electrolytes compared to the other systems could be related to the interaction of these electrolytes with lithium metal. It is well known that a passivating organic-inorganic SEI is spontaneously formed at the electrolyte-lithium metal interphase from the decomposition products of the electrolyte, including LiF, LiCl and Li2O or Li2CO3[48,49]. Therefore, it is usually desired that the electrolyte contains at least one SEI precursor, such as LiTFSI or LiFSI[48]. Actually, some reports in the literature have presented remarkable results on symmetrical cells when FSI- anions are used within the electrolyte, relating them with the formation of a SEI rich in LiF[42,50]. This could potentially explain the superior performance of our FSI- based electrolytes. In order to elucidate further the platting/stripping behavior of cells using Liquid-FSI at their current boundary limits [Supplementary Figure 8C], impedance measurements were performed before (EIS-0) and after cycling at 2 mA·cm-2 (EIS-2). The Nyquist plots are shown in Supplementary Figure 8D. As observed, the electrolyte and interfacial contribution resistances showed a negative evolution over cycling. This decrease in resistance represents a typical behavior of a recoverable soft short-circuit[47], in which the cell was able to keep cycling to the detriment of the electrolyte and SEI stability. The characteristic frequencies (fc = 1/2πRC) of the interphase and electrolyte shifted from 1.38 and 486 Hz to 7.93 and 5430 Hz, respectively, suggesting a change in the composition (potential degradation) of these materials at 2 mA·cm-2[51]. Overall, it is noteworthy that these cycling results reveal the possible use of Iongel-FSI as an effective electrolyte/anolyte material for lithium protection.
Prior to Li-O2 battery testing, Li0//stainless steel cells were prepared and scanned at 0.2 mV·s-1 to investigate the upper stability window of the studied liquid electrolytes [Supplementary Figure 9]. The best stability window values were 4.77-4.92 V for TFSI- containing electrolytes (Liquid-TFSI and Liquid-FD cells, respectively) and ~3.2-3.6 V for the rest of the cells. Following these results, cut-off potentials of 2.0 and 3.6 V were established for Li-O2 cycling.
Li-O2 cells
First, a C-rate test (dynamic discharge) was undertaken on Swagelok Li-O2 cells to determine the average steady potentials achieved at different current densities (from 5 μA·cm-2 to 0.35 mA·cm-2 with 15 min/per rate). The results were heterogeneous [Figure 5A]. Cells with Iongel-FSI and Iongel-TFSI could be cycled at higher current rates (up to 0.1 mA·cm-2), whereas cells with Iongel-FD and Iongel-BETI achieved more modest values (~60 μA·cm-2). Cells with Iongel-CFSO electrolytes exhibited a dramatic drop in the cell potential beyond the 25 μA·cm-2 current rate, matching the poorer performance shown previously in the symmetrical lithium cells. Despite containing a higher fluorine content, the viscosity of the system might play a more dominant role, limiting the mobility of the Li+ toward the positive cathode. Cells with liquid electrolytes were also evaluated for comparison [Figure 5B] and all of them, with the exception of the Liquid-CFSO electrolyte, exhibited a more homogenous performance with a stable discharge potential until a 0.12 mA·cm-2 current rate. Considering the results obtained for cells using iongel electrolytes, 50 μA·cm-2 was selected as the current density for further galvanostatic testing with an average discharge potential of ~2.6 V. Due to their low performance, Iongel-CFSO electrolytes were not further tested.
Figure 5. Cycling of Swagelok Li-O2 cells at 60 °C. (A and B) Potential against current density, where the potential plotted is the average potential of the cell reached at each current density during a dynamic discharge (three cell average). (C) Discharge-charge profiles at 0.05 mA·cm-2 and galvanostatic cycling at ± 0.05 mA·cm-2 with limited capacity (0.2 mAh·cm-2). (D) Discharge capacity retention. Selected potential profiles of (E) Iongel-TFSI and (F) Iongel-FSI cells.
Subsequently, Li-O2 cells with iongel electrolytes were fully discharged/charged at ±50 μA·cm-2 and 60 °C between 2.0 and 3.6 V vs. Li0/Li+ after 3 h of conditioning at the OCV [Figure 5C]. Similar to the rate tests, the electrolytes could be divided into two groups: Iongel-FSI and Iongel-TFSI electrolytes [with cells giving the highest discharge capacities (2.62 and 2.48 mAh·cm-2, respectively)] and Iongel-FD and Iongel-BETI (with cells showing a sharp potential decay at the beginning of the discharge and 0.5 and 1.14 mAh·cm-2 discharge capacities, respectively). Furthermore, the onset potential for the ORR on the discharge process was observed at 2.55-2.59 V vs. Li0/Li+ for all the cells, close to the value anticipated on the rate test (2.60 V vs. Li0/Li+). In contrast, Li-O2 cells with liquid electrolytes [Supplementary Figure 10A] exhibited cleaner profiles with absolute discharge capacities between 2.5 and 3.0 mAh·cm-2. As anticipated for the rate test, ORR potentials were observed between 2.65 and 2.72 V vs. Li0/Li+ for all the cells, where cells with the Liquid-FSI electrolyte showed the highest values (3 mAh·cm-2 discharge capacity and 2.72 V vs. Li0/Li+ ORR potential). Overall, Li-O2 cells based on the FSI- anion were the most promising systems.
Finally, Li-O2 cells were cycled with limited capacity (0.2 mA·cm-2) at 50 μA·cm-2 and a potential window of 2.0-3.6 V. Figure 5D displays the discharge capacity retention of the three iongel cells. The best Li-O2 cell had Iongel-TFSI as an electrolyte and cycled for 25 cycles at 100% Coulombic efficiency [Figure 5E]. In contrast, cells with the Iongel-FSI electrolyte were able to cycle 13 times at 100% capacity retention but with lower charge capacities than cells with Iongel-TFSI [Figure 5F]; afterward, the cell potential drastically faded. Cells using Iongel-FD and Iongel-BETI electrolytes had poorer cycling performance (five and two cycles, respectively), in accordance with the poorer results obtained on the full discharge/charge cycling. Their potential profiles are shown in Supplementary Figure 10C and D. Cells with ILEs were also examined [Supplementary Figure 10B] and surprisingly, their cycling performance was equivalent to the cells with iongel electrolytes. Actually, the number of cycles at 100% discharge capacity retention was the same for both cells using polymer and liquid electrolytes, except for TFSI--based electrolytes, in which they decreased from 25 to 10 cycles before drastic capacity fading. Overall, the FSI-- and TFSI--based electrolytes were the best for Li-O2 cell tests in terms of capacity and cycling capability. Despite having a larger fluorinated content, Iongel-CFSO, Iongel-BETI and Iongel-FD did not improve the performance in Li-O2 cells. The higher viscosity of these systems had a major impact on their battery performance.